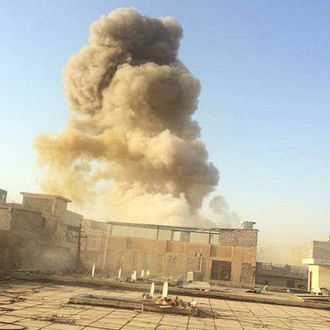 Photo: TNS/ZUMA Wire/Corbis
ISIS took over the Iraqi city of Ramadi on Sunday, despite American airstrikes and the arrival of troop reinforcements from Baghdad. According to the New York Times, the Islamic State's successful effort to seize Ramadi began on Thursday, after more than a year of taking up positions around the city and several months of attacks. "Ramadi has fallen. The city was completely taken," said Muhannad Haimour, a spokesperson for the governor of Anbar Province, where Ramadi is located. "It was a gradual deterioration. The military is fleeing." 
From the Associated Press:
The final push by the extremists began earlier Sunday, when police and army officials said four nearly simultaneous bombings targeted police officers defending the Malaab district in southern Ramadi, killing 10 and wounding 15. Among the dead was Col. Muthana al-Jabri, the chief of the Malaab police station, they said.

Later on, police said three suicide bombers drove their explosive-laden cars into the gate of the Anbar Operation Command, the military headquarters for the province, killing five soldiers and wounding 12.

Fierce clashes erupted between security forces and Islamic State militants following the attacks. Islamic State militants later seized Malaab after government forces withdrew, with the militants saying they now held the military headquarters.

A police officer who was in Malaab said retreating forces left behind about 30 army vehicles and weapons that included artillery and assault rifles.
Haimour told reporters that at least 500 residents of Ramadi were killed in the weekend battle.
Iraqi prime minister Haider al-Abadi responded to the defeat by ordering Shiite militias (known as the Popular Mobilization Forces) to fight ISIS in Sunni-dominated Anbar, ignoring American concerns about the possibility of sectarian violence. ISIS's takeover of Ramadi happened just two days after United States Special Operations forces killed one of the group's leaders in Syria.