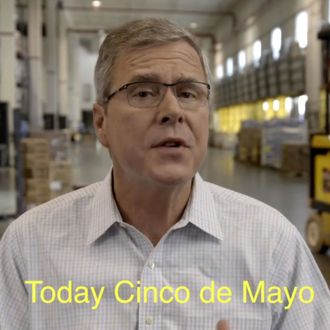 In a video message recorded for some unknown reason on the floor of a factory, potential GOP presidential candidate Jeb Bush wished everyone a happy Cinco de Mayo, or, as Americans know it, "the holiday where we celebrate our Mexican neighbors through offensive cultural appropriation." 
"Cinco de Mayo is an honorable date when Mexico our neighbor bravely defended itself against a foreign intervention," Bush says in the video. Now, that honorable date is used as an excuse for white teens to sneak swigs of their parents' tequila and groups of shrieking college girls to drunkenly consume Chipotle.
Happy Cinco de Mayo, everybody!