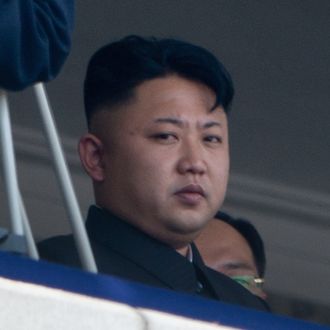 A week after Kim Jong Un reportedly had his defense minister executed by anti-aircraft gun when he fell asleep during a meeting, Secretary of State John Kerry spoke about what to do with North Korea during a visit in Seoul, the capital of the country's southern neighbor.
"The world is hearing increasingly more and more stories of grotesque, grisly, horrendous, public displays of executions on a whim and fancy by the leader against people who were close to him," Kerry said, "sometimes on the flimsiest of excuses." He went on to say that Kim's government was "one of the most egregious examples of reckless disregard for human rights and human beings anywhere on the planet."
"If their horrific conduct continues," he continued, "it is hard to see how that referral to the [International Criminal Court] would not take place."
The United States has also discussed ramping up already stiff sanctions against the isolated country with countries like China, since North Korea has taken no steps to lessen international worries about its nuclear weapons plans. Kerry unsurprisingly brought up the Iran nuclear talks, saying that witnessing another successful deal might make North Korea open to restarting discussions about the future of its program; several previous attempts to address the country's nuclear future have stalled. 
"Never has the international community been as united as we are now that No. 1, North Korea needs to denuclearize and No. 2, that they have not only not taken steps in that direction but have grown their program and have acted with a kind of reckless abandon," Kerry said.
Kerry is visiting South Korea to discuss cybersecurity — another reason the U.S. is worried about North Korea — and to plan a potential trip to D.C. for South Korean President Park Geun-hye in June.