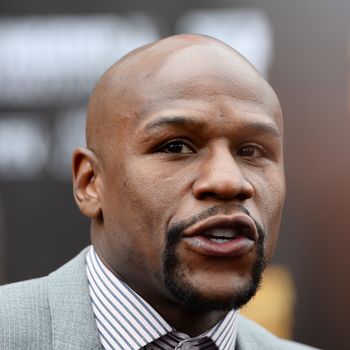 As you may have heard, boxers Floyd Mayweather Jr. and Manny Pacquiao are set to face off in Las Vegas on Saturday night. But two prominent sports reporters won't be in the MGM Grand Arena to watch: CNN's Rachel Nichols and ESPN and HBO's Michelle Beadle both say that Mayweather denied them credentials to cover the fight, apparently because they've been vocal about his well-documented history of abusing women.
Here's what Nichols and Beadle tweeted on Saturday morning:
Nichols also posted a video of an interview in which she pressed Mayweather on the subject of domestic violence:
By Saturday afternoon, the Mayweather camp appeared to be doing damage control. From the New York Times:
Mayweather Promotions, which controlled distribution of the media credentials, denied the reports. It noted that being credentialed was different from having a seat inside the arena. Media seating was not confirmed until late Friday night.

Media requests for credentials far outstripped the number of seats available for the news media inside the arena. As is common at major sporting events, an overflow media center was created. Some reporters for many news organizations were assigned to that auxiliary area. CNN, a Mayweather spokeswoman said, had multiple credentials but just one allocated seat inside the arena.

"Rachel Nichols is indeed credentialed and always has been," Kelly Swanson, a spokeswoman for Mayweather Promotions, said on Saturday. "And CNN is deciding what correspondent they will have in the arena. It's their choice."
Swanson also took to Twitter:
A spokesperson for Showtime, which shares the rights to broadcast the fight with HBO, told the Times, "[Beadle] has a credential through HBO." However, Deadspin reports, "HBO says Mayweather publicist Kelly Swanson isn't telling the truth, as the network does not have the authority to issue its own credentials."
While the details of how everything unfolded are obviously a bit unclear, it seems that Mayweather Promotions was somehow pressured into credentialing Nichols and Beadle on Friday night:
So, unfortunately, it seems that Mayweather ended up getting his way: Nichols and Beadle are out. Let's hope that some of the journalists who are permitted to report on his fight take the opportunity to call him out for all of his awful behavior.