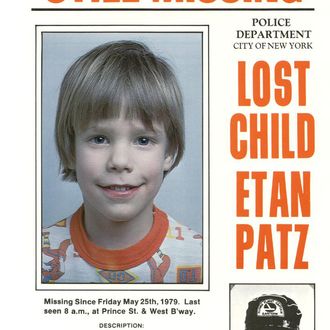 Jurors spent 18 days deliberating the Etan Patz case, but had to tell state Supreme Court Justice Maxwell Wiley today, for the third time, that they were deadlocked and could not reach a unanimous verdict. 
As a result, he declared mistrial, and the decades-old case will remain unresolved. The jurors later announced that they were 11-1 in favor of guilt.
Pedro Hernandez, the 54-year-old man who confessed to killing the 6-year-old boy in 1979, when he was a teenage store clerk, and was arrested in May 2012, will remain in jail for now — the Manhattan District Attorney's office has not signaled whether it seeks to retry the case yet. The defense argued in this case that Hernandez's confession was forced by the police and that Hernandez was an "unreliable" source — given the lack of physical evidence, the fact that the child's body was never found, and the amount of time that has passed since the crime occurred, the case mostly hinged on the veracity of that confession.
"The challenges in this case were exacerbated by the passage of time, but they should not, and did not, deter us," District Attorney Cyrus Vance Jr. said in a statement. Stan Patz, the father of Etan, spoke shortly after the case ended, saying that Hernandez's "story is simple, and it makes sense," and that his family has closure regardless of how the case ends legally, since they believe he did it. 
Given the length of time that the jury remained deadlocked, Wiley knew a late verdict would be questioned. "It's safe to say that your verdict, whatever it is," he told the jury earlier this week, "will be second-guessed publicly by any number of people, but please do not be concerned about that."
The trial itself took ten weeks and involved testimony from 56 people. 
Etan Patz disappeared on May 25, 1979, the first day his mother let him walk to the bus stop alone. That day was later recognized as National Missing Children's Day.