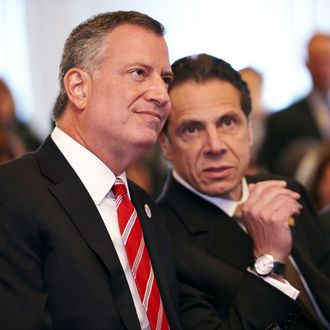 Allies.
Photo: James Keivom/NY Daily News via Getty Images
Boy, it sure is a good thing Governor Andrew Cuomo and Mayor Bill de Blasio are such close, personal friends. Otherwise, the past two days of sniping between them might have really gotten nasty.
Because short of name-calling and sticking out their tongues, Cuomo and de Blasio are doing a pretty good job of appearing to be angry with one another. De Blasio has proposed a package of housing ideas that would make state rent regulations more tenant-friendly and alter a state tax-rebate plan that's intended to subsidize affordable housing, all to advance his progressive agenda. But the legislature and governor are heading toward extending the laws without changes. So on Wednesday, the mayor denounced that as "irresponsible."
"We particularly need the governor to act. We need leadership, and we know the governor has been able in the past to create real change here in Albany and get big things done," de Blasio said after meeting with Cuomo. "I'm quite frustrated that issues of such great importance to millions of New Yorkers still have not been addressed."
This was followed by a Cuomo "administration source" throwing an elbow in a text sent to Zack Fink of NY1: "Don't get me wrong, it was nice [de Blasio] showed up. But to appear in the Capitol a few days before the end of session with controversial and untested ideas that are opposed by significant groups such as the AFL CIO is not how leaders get things done."
On Thursday, the governor himself attempted some political jujitsu. Cuomo, who has raised millions from real-estate developers, accused de Blasio of favoring developers over the little guys. "A lot of people think the deal that has been negotiated by the city is too rich for developers and doesn't do enough for workers," Cuomo said. "I want to make sure that workers are protected and the developers get a fair deal. I am not interested in passing a program that is a giveaway to developers."
Cuomo is right that de Blasio's plan would be a boon to landlords in at least one respect: The mayor, to try to spur construction of cheaper apartments, proposes extending the 421-a tax abatement from the current 15 or 25 years to 35 years.
But this dance is starting to seem awfully familiar — and the emphasis on the personal has obscured one important substantive point. Back in the winter of 2014, when de Blasio was pushing for a major expansion of pre-kindergarten and after-school programs, he absorbed months of jabs from Cuomo — who at one point tried to outflank de Blasio on the left by saying the mayor's proposal could create "more inequity and inequality."
The strongest flashback of all comes from a key element of last year's dispute: taxes. To fund pre-k, de Blasio wanted to raise rates on the rich. This time around, de Blasio is proposing a "mansion tax" to help fund the construction of new affordable housing.
In both cases, the mayor's tax proposal had as much symbolic as practical value. The governor was, and probably is again, less than thrilled: Cuomo has made lowering taxes, with one notable exception, a foundation of his agenda.
During the pre-k battle, Cuomo was exasperated by the mayor's insistence on pushing a tax increase even after alternative funding had been promised. There are more puzzle pieces in play this time around, but one significant source of friction doesn't seem to have changed.
Don't underestimate the pettiness driving the spat between Cuomo and de Blasio ("Jeez, can't Andrew not be a dick to Bill just once?" a Cuomo ally asks). But the tax question also has serious big-picture resonance. The two men are fighting over competing versions of liberalism: Cuomo, the (Bill) Clinton–ian centrist New Democrat versus de Blasio the New-Old Lefty Democrat.
For the mayor, the national ramifications are larger — de Blasio is trying hard to lead a broad progressive movement, and to show that an ideologically driven mayor can efficiently run and reform a major city. Cuomo's national hopes are dormant right now, so for him, the squabble is largely about reminding everyone who rules New York. Yet he's staying true to his belief in middle-of-the-road, bipartisan, get-things-done governance.
The local fight over taxes on the rich is also a warm-up act for an intramural Democratic debate that Hillary Clinton will need to contend with next year. But hey, friends can always work something out, right?