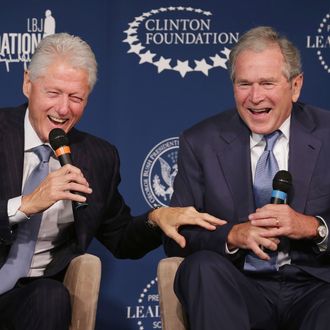 Photo: Chip Somodevilla/Getty Images
Now the Clintons' money issues are having a negative effect on everyone who's occupied the White House. On Tuesday the House Oversight panel advanced a bill that would limit the amount of taxpayer money former presidents receive for expenses like travel and office space (Secret Service protection would not be affected). Last year, $3.5 million in taxpayer money went to the four living ex-presidents, according to the AP, but under the proposed rules, former presidents would be cut off from federal funds if they make more than $600,000 a year (though they'd still receive a $200,000 annual pension). 
While the Clintons were not mentioned by name on Tuesday, several lawmakers have alluded to the recent revelation that together they earned $30 million since January 2014. Plus, Politico reported that by the next election, Bill Clinton will have collected more than $16 million under the Former President's Act, more than any other president. The law was created in 1958 after Harry Truman was forced to take out a loan, sell property, and publish his memoirs to make ends meet. The Clintons might have been "dead broke" at one point, but today all of our former presidents can make do without taxpayer money.