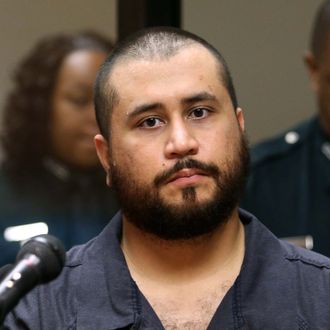 Photo: Joe Burbank-Pool/Getty Images
George Zimmerman found himself in the news yet again earlier this week, when he was involved in a shooting in Lake Mary, Florida. But this time, the man who killed Trayvon Martin wasn't the shooter. Instead, it was 36-year-old Matthew Apperson, who said that he fired a single bullet into Zimmerman's car because Zimmerman had threatened him with a gun. (The shot missed Zimmerman, though he was reportedly sprayed with glass when his windshield shattered.) Orlando's WESH-TV reports that Apperson turned himself in to the police on Friday night.
From WESH-TV:
Lake Mary police said Zimmerman and Apperson have an ongoing dispute and were involved in an altercation in September, when Apperson accused Zimmerman of trying to kill him while on the road. According to an arrest report, Zimmerman said Apperson pulled up behind him and said "You remember me you fat (expletive)?"

Zimmerman also accuses Apperson of saying, "You owe me your life. The only reason I didn't press charges on you is because I wanted to kill you myself," the affidavit said. According to the report, Zimmerman claims Apperson continued to follow him until Apperson fired a shot into his vehicle. Arresting documents also note that a Lake Mary police officer called to the scene overheard Apperson say, "I hope I got him this time."
In a Saturday court appearance, Apperson was charged with "aggravated assault with a deadly weapon, aggravated battery with a deadly weapon and firing a deadly missile into an occupied conveyance," the Orlando Sentinel reports. After being ordered to hand over all of his firearms within 24 hours and to stay away from Zimmerman, Apperson was released on $35,000 bond. He's due back in court in late June.
This isn't Apperson's first rodeo: WESH reports, "In 2005 a woman accused Apperson of punching her window in a road rage incident, police said. That woman decided not to press charges. Winter Springs police said they have been called to Apperson's home at least 15 times since July 2012." So it seems that he and Zimmerman — who has been repeatedly accused of domestic violence in the years following Martin's death — have some things in common.