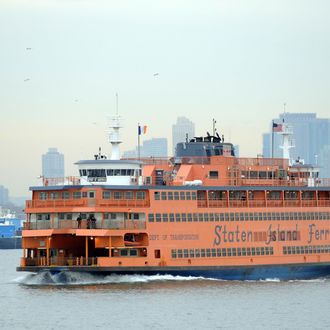 Photo: Don Emmert/AFP/Getty Images
A ride on the Staten Island Ferry, which offers sweeping views of downtown Manhattan and the Statue of Liberty, is one of New York City's best free activities — unless you don't know that it's free. The New York Post reports that Parks Enforcement Patrolman Jean-Baptist Joseph recently caught a man named Gregory Reddick charging two tourists $200 each to board the ferry. Apparently, Reddick's "Authorized Ticket Agent" was enough to convince his victims that he was legit.
Joseph says that when he initially confronted Reddick, the 54-year-old (who reportedly spent nine years in prison for credit card fraud) pushed him and ran to the Battery, where he was eventually arrested by a group of police officers. Because the cops were unable to find the folks who handed Reddick $400 of their hard-earned cash, he's only being charged with resisting arrest and disorderly conduct. From the Post:
Reddick is one of a small army of unlicensed tourism "ticket agents" who wear vests reading "SJQ Sightseeing" — a company that has no Parks Department permit and is not registered to do business in New York state.

PEP officials and legit vendors say that, at best, SJQ buys valid bus and boat tickets in bulk, and sells them at a profit. At worst, they sell bogus tickets that aren't worth the paper they're written on.
And you thought the $30 hot-dog vendor was bold.