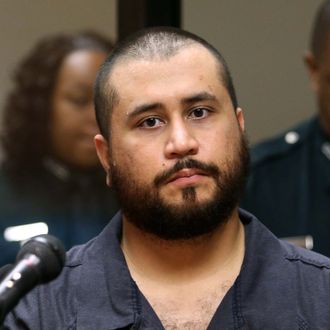 George Zimmerman.
Photo: Joe Burbank-Pool/Getty Images
George Zimmerman was treated for minor injuries and released from a Florida hospital on Monday afternoon after he was shot at in his car. The bullet missed Zimmerman's head and hit his windshield, spraying him with glass. It's still unclear what prompted the incident, but now the shooter, Matthew Apperson, claims he was only acting in self-defense — the same explanation Zimmerman gave when he was acquitted in the fatal shooting of Trayvon Martin. Kenneth Cornell, who works at a nearby business, says Apperson drove up to him as he was exiting his car and yelled, "I shot George Zimmerman, call 911. I don't have a phone." According to CNN, Apperson told Cornell this was his third altercation with Zimmerman, and he fired the shot because Zimmerman waved a gun.
Apperson appeared at a press conference on Monday evening with his wife and mother by his side. His attorney, Mark NeJame, said "what happened today, he was legally justified to do." He added that Apperson is "not looking for trouble, he did not want trouble, he's not following George Zimmerman around, he's not wanting anything to do with George Zimmerman as it relates to any of this."
Zimmerman's attorney responded, "George absolutely denies pointing a gun, displaying a gun — no aggressive movement toward him at all." Police are still investigating, and there have been no arrests in the case.