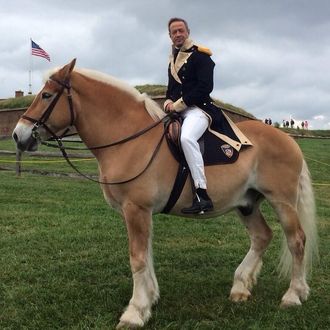 O'Malley's first presidential race happened two centuries ago.
Photo: Martin O'Malley/Twitter
If you were worried that the 2016 presidential candidates weren't going to talk enough about early American history, fear not. American politics' biggest War of 1812 enthusiast is set to enter the 2016 race on Saturday in Baltimore, where he once served as mayor.
At least we assume Martin O'Malley will be announcing his presidential ambitions tomorrow, based on the video he posted today, which features him playing a few bars of "Hail to the Chief" and nodding.
O'Malley is currently polling around 2 percent in the Democratic primary polls, far behind Hillary Clinton and Bernie Sanders. Seventy-nine percent of Democratic voters haven't even heard of him, according to the latest Quinnipiac University poll. His main arguments about why voters should take an interest in his candidacy look oddly similar to young Republican candidates' reasoning for why they are a more enticing pick than Hillary Clinton — he's only 52, and he isn't related to any past presidents. And, unlike other presidential candidates, O'Malley has said on the record that he isn't sure that the U.S. should have declared war on Great Britain in 1812. 
O'Malley also seems determined to aggressively court the dad vote by reminding everyone he is in a band.
Out on the campaign trail, Iowa voters have started randomly handed him guitars to play. "It's funny, guitars are starting to pop out of everywhere," he told the Huffington Post earlier this month.  
However, O'Malley might want to brush up on some recent American history if he's thinking of bringing his Irish rock band on tour (it seems very doubtful); in presidential politics, even singing can be used against you.