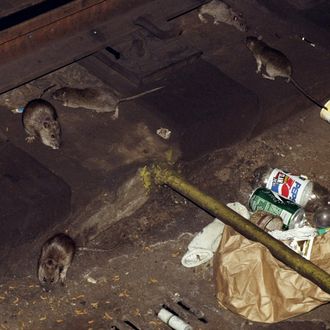 Rats on the subway tracks at the 53rd Street station.
Photo: Andrew Savulich/1997/NY Daily News Archive
New York City's rats are absolutely disgusting: They carry fleas that can spread the plague and have an untold number of bacteria, diseases, and viruses living on their mangy bodies. Now Mayor Bill de Blasio has devised a plan to obliterate them once and for all.
The mayor has pledged $3 million to expand a pilot program that focuses on tracking rats back to their reservoirs, then baiting and trapping them. The program has been highly successful in the seven different neighborhoods where it was launched, including the Upper West Side and the East Village. Since its launch, those areas have seen a 80 to 90 percent decrease in rat sightings, according to the Daily News. The $3 million will go toward broadening the program and helping to expand it citywide.
There's only one problem: How will people know they're real New Yorkers if they never experience the rite of passage of having a rat scurry across their sandaled foot?