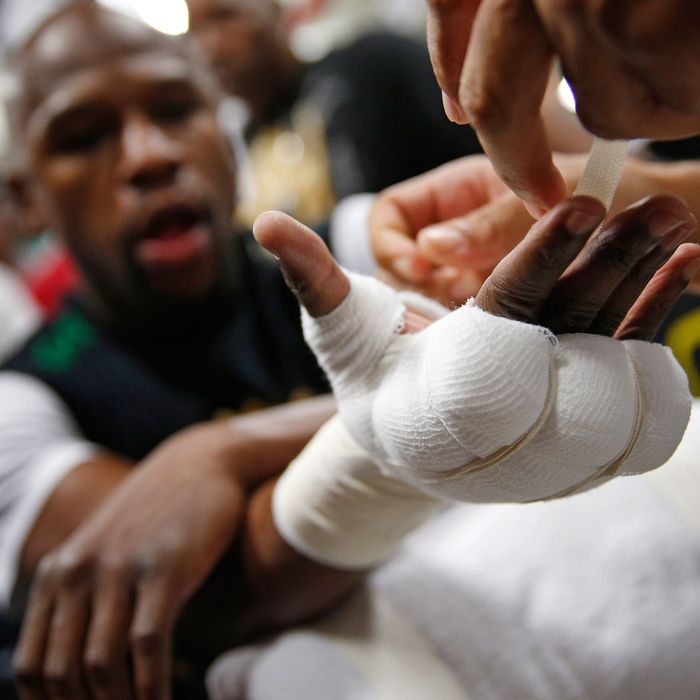 Photo: John Locher/AP/Corbis
As boxing's most talented fighter, Floyd Mayweather Jr. has a weakness. It's plagued him since his father — today still his trainer — first taught him how to hook off the jab as a child. It's plagued him in every training camp, in all of his nearly 50 pro fights, and is likely to be an issue in his bout against Manny Pacquiao here tomorrow, despite what Mayweather's cornermen say.
"He has all the problems in the world with his hands," says Miguel Diaz, a veteran cutman who wrapped Mayweather's hands and worked with him for five year after the boxer turned pro in 1996. Diaz, who currently works for Pacquaio, has been working corners in boxing for so long he's also wrapped the hands of the other fighters in the famous Mayweather boxing family: his father Floyd; his uncle-slash-trainer Roger; his uncle-slash-former trainer Jeff.
"They all have the same hands, and the same problems," Diaz says. He has a theory as to why. "They didn't have enough calcium as babies. Their bones did not grow strong."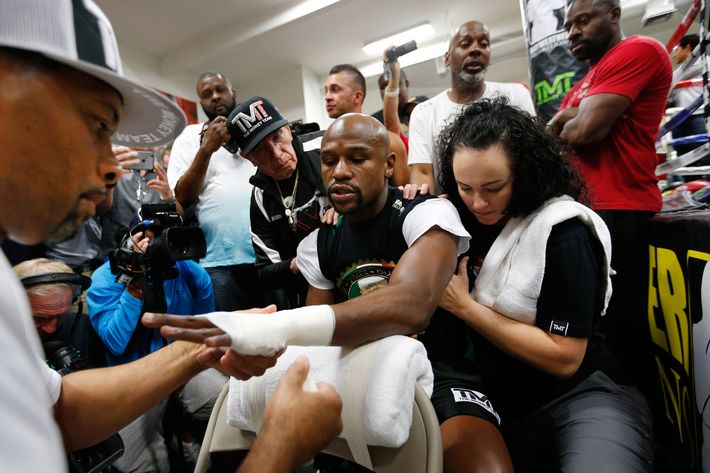 While Mayweather is taller than Pacquiao, and has a bigger frame and a five-inch advantage in reach, the size of the fighters' hands are roughly the same, says Diaz. The key elements of the hand — the knuckles, the bones, the wrist — are each critical in the impact of a boxer's punch, and determine what kind of treatment and equipment a cornerman uses. For years, to treat boxers that had weak hands, Diaz says he and other cornermen would use a syringe before the fight and inject Novocain into their hands to numb any pain. But in recent years, he's stopped. Current state guidelines forbid the use of Novocain.
"It shows up in your pee-pee," he says.
Still, fighters and the cornermen that service them find other solutions.
"I use a medicine from Mexico," Rafael Garcia, the longtime private cutman and hand-wrapper of Mayweather Jr., told me the other day, before the final press conference. Diaz is a throwback in boxing, growing up in Argentina as a fighter and working corners in the States since the early 1970s. But cornermen Rafael Garcia is a living museum, having learned to box in the 1940s, and working the corners of champions like Roberto Duran and Alexis Arguello. Garcia is in his mid-80s and came out of retirement to work the corner of Mayweather, a cut of whose monumental fight purse goes to his corner.
"He loves me, and I love him," Garcia said of his relationship with Mayweather.
But the Mexican medicine he uses on Mayweather's hands. What is it?
"I can't tell you," he said.
Does he administer it by injection? A cream? A pill?
Garcia would not say. He's not likely to wrap Mayweather's hands on fight night, though. While Mayweather is notoriously unpredictable, often changing roles of camp members at the last minute, he's tapped a new member of his team, Bob Ware, to wrap his hands for the fight. 
Ware does not come out of boxing's history books, which is what Mayweather likes about him. Instead of wrapping hands using methods of the past, Ware, who works in Mayweather's gym here in Las Vegas, has said he's modernized the practice by locating more advanced sources for the only materials a cornerman can legally use to wrap hands, gauze and adhesive tape. Like Garcia, Ware has been loath to reveal his secrets.
Asked by a local reporter where he sourced his gauze, Ware was mum. Asked what made the cloth so special, Ware would say only the cloth was "a conforming gauze." Whatever that means.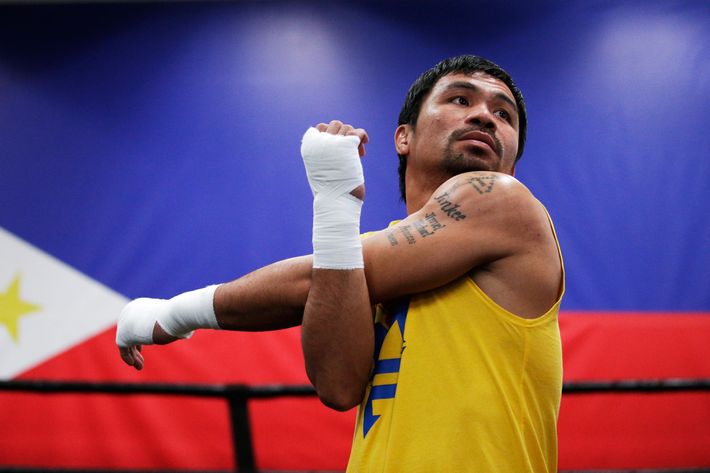 The wrapping of hands is likely to become an issue before the fight. Freddie Roach, the trainer of Pacquiao, told me he believes Mayweather's corner uses too much gauze to build his hand wraps, and Roach has not only requested commission officials to review the gauze they will be using, but also Mayweather's boxing gloves. Custom built by Grant, one of the last companies to make boxing gear in the States, the gloves that Mayweather wears are designed to protect his hands. The interior of the glove is made from foam, which softens the shock of blows. 
Pacquaio doesn't have problems with his hands. The gloves he uses are made by Cleto Reyes, a Mexican company that still uses horsehair in their padding. Instead of protecting the knuckles, Reyes's gloves expose the knuckles, resulting in a harder punch. The horse-hair is malleable. Through the fight, the horse hair moves around inside the glove, conforming around the knuckle bone — and resulting in a harder punch. Throughout his career, Pacquaio has benefited from healthy hands. His knockout percentage is nearly 60 percent, compared to Mayweather's 55 percent. In general, for their respective weights, Pacquiao punches harder. But in recent years, both Mayweather and Pacquaio have struggled to knock out opponents like they once did. With his fragile hands, Mayweather is forced to be more economical with his punches, and is one of the most accurate punchers in history.
"The knockout doesn't come from the hands," Diaz says. "The knockout comes from the head. The knockout comes when you are not afraid to be knocked out." Only with the commitment of exposing yourself to a counterpunch can a boxer ground himself, anchor his feet into the canvas, swivel at the hips, and throw a fearless punch. Only then, he says, can the knuckles truly be felt.