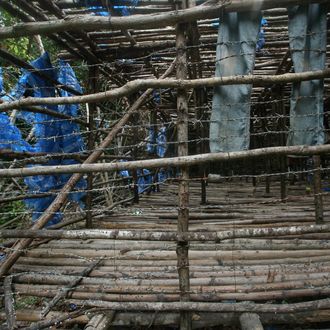 Photo: Mohd Samsul Mohd Said/Getty Images
Today in Malaysia, authorities began exhuming the bodies of human trafficking victims from 139 mass graves recently discovered near the border with Thailand. The Associated Press reports that the graves have been found across a network of 28 abandoned camps used by smugglers to hold migrants from Myanmar and Bangladesh. A similar discovery by Thai authorities less than a month ago found 36 bodies buried across seven camps in the same region. Even for those who survive, it is likely a horrifying ordeal: Migrants pay smugglers to take them on the long ocean trip to Malaysia, only then to end up being held for ransom in wooden and barbed-wire cages. Even worse, activists have documented that if the victims' families couldn't pay, the smugglers would sometimes torture, rape, and murder their captives.
It's possible the camps were abandoned due to a recent crackdown by Thai and Malaysian authorities on the smuggling syndicates, and residents in villages near the camps have reported finding emaciated migrants emerging from the jungle. It's likely that many of those in the graves are Rohingya Muslims, a stateless, widely persecuted minority group in Myanmar. According to U.N. estimates, in the last three years, more than 120,000 Rohingyas have fled Myanmar, where most live segregated into government camps and are subject to constant harassment. Over the past few months, thousands have ended up stranded at sea attempting the journey, and that crisis may worsen as smugglers, afraid of the crackdown, simply leave the migrants adrift. As Time reports:
Around 3,500 Rohingya and Bangladeshis have managed to land in Malaysia and Indonesia in recent weeks, after months at sea. With Southeast Asian governments at first unwilling to take them in, the boats — their holds packed with hundreds of people, like modern-day slave ships — floated between different national waters in what the U.N. described as "human ping pong." Only last week did the governments of Indonesia and Malaysia officially agree to offer shelter.
Neither is interested in offering a permanent home, however. For Malaysia and Thailand, both had denied there were these human trafficking camps in their countries, even though they were likely there for years. And though authorities have made arrests related to the smugglings, many observers suspect that local officials not only had to have known about the ring but been involved themselves.