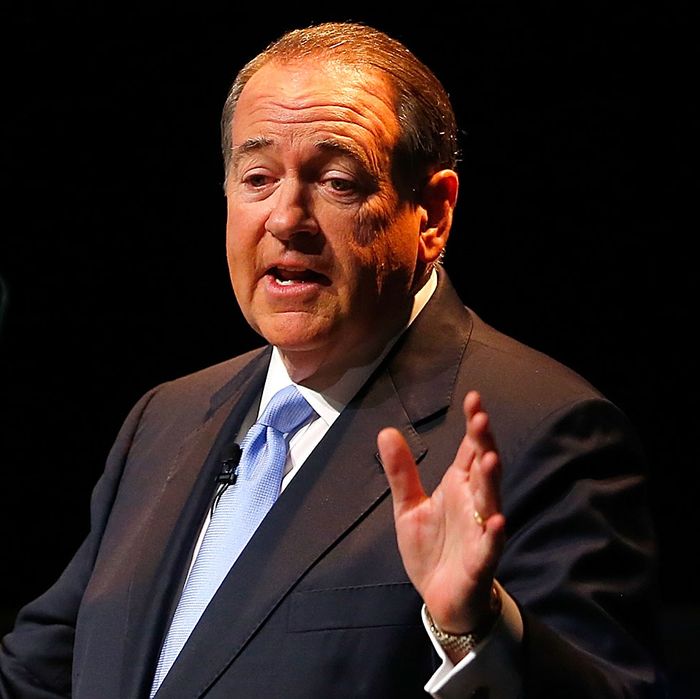 Former Arkansas Gov. Mike Huckabee speaks as he officially announces his candidacy for the 2016 Presidential race.
Photo: Matt Sullivan/Getty Images
He's in. Again.
Will he win? 
It seems unlikely — the latest 2016 poll has him being the top choice of 5 percent of Republican primary voters — although life isn't always about winning, especially when you are a Republican presidential candidate.
He is the third Republican presidential candidate to enter the 2016 race this week. 
The announcement took place in Hope, Arkansas, the town where the former Arkansas governor grew up — as did former Arkansas governor Bill Clinton. Throughout the speech, Huckabee repeated a slogan that also appeared behind him on stage — "From Hope to Higher Ground." This also happens to be the name of one of his old campaign books, which bolsters the argument that Huckabee's presidential campaigns are mostly an effective way to boost books sales and general Huckabee merchandise profits.
Before the speech began, reporters and news outlets shared lists noting the 5 or 6 or 9 or 1,100 things you needed to know about the conservative candidate. 
One of the most noticed lines from his speech is not likely to become an important part of his platform. 
Although the internet seemed skeptical of Huckabee's announcement and his chances of success, the crowd watching him applauded frequently — especially when he talked about abolishing the IRS and promising never to apologize for America. 
Huckabee took shots at Hillary Clinton and Jeb Bush — as well as a bunch of other Republican candidates — while laying out a pretty predictable platform of ideas designed to appeal to evangelicals and reinforce the populist label he's sought so hard to craft. 
Meanwhile, at least one group was busy making ad buys against Huckabee, which will begin running in Iowa, where Huckabee plans to visit this week.
What's next? As Iowa and New Hampshire grow more crowded with random people who will never become president desperate to shake residents' hands, Jeb Bush and Scott Walker have yet to announce — although they have done wonders fundraising for super PACs planning for yet unmentionable political campaigns in the meantime. Until they admit they are running, Huckabee can compete with the five other Republican candidates already in the race for attention. It may not be easy.