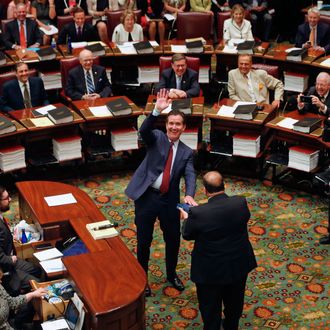 New York State Senate Majority Leader John Flanagan, R-Smithtown, waves to the gallery before being sworn-in today. (AP Photo/Mike Groll)
Photo: Mike Groll/AP
State Senator John Flanagan was choosing his words very carefully. The indictment and arrest of Dean Skelos looked imminent, and Flanagan looked to be one of the leading candidates to replace him as majority leader of the Senate Republicans. Flanagan didn't want to seem presumptuous, especially because he considers Skelos "a friend." He didn't want to seem clueless, either.
"Certainly, I have ambitions," Flanagan said, sitting in his Albany office on a sunny afternoon during the final week of April. "If opportunities arise, I pay attention just like everybody else."
The big opportunity arose, and Flanagan has done a whole lot more than pay attention. This afternoon, he won a come-from-behind, insider contest to succeed Skelos, outmaneuvering John DeFrancisco of Rochester, who over the weekend appeared to have enough votes in hand. Flanagan overcame some bad optics — he, like the scandalized Skelos, is a lawyer from Long Island, and a recent Daily News story highlighted how Flanagan has voted in favor of bills that have helped clients of his law firm.
But Flanagan — who has said that he had no involvement with the companies in question — had at least two factors working in his favor. The first was the argument that Long Island districts — and Long Island campaign donors — will be crucial to any chance the Republicans have of retaining their Senate majority in 2016. The second was his forceful-but-genial personality: Last night, as the wrangling grew intense, Flanagan went over to DeFrancisco's Albany apartment to split a pizza. 
Flanagan, 54, is a second-generation politician. His father, John Sr., served in the assembly for 13 years. "My dad was running for his eighth election when he passed away — September 27, 1986," Flanagan said quietly back in April. "He died on a Saturday. The following Saturday, I was nominated and started campaigning." The son shifted to the Senate in 2003 and rose to become head of that body's education committee, where he's recently led efforts to dial back some of the implementation of Common Core standards. He'll now have an even larger say on issues like extending rent regulations and mayoral control of public schools, things that he hinted will be balanced against some eternal suburban concerns. Flanagan pointed to a framed collage of newspaper clips and campaign souvenirs from his father's first run for office, in 1972: "On the list of issues, property taxes was right on top," he said. "I don't think that's really changed."
He did admit, though, that Albany's ethical troubles have deepened. Flanagan is now benefiting, in a perverse way, from Preet Bharara's investigations. But some remedies he considered an overreaction. "I'm going to be crystal clear with you: I don't think we should have a full-time legislature," Flanagan said. "I believe that people should be entitled to have outside income and to make a living that enables them to have the liberty and the privilege of serving without having that be their only source of income. Ethics is important. Great transparency, greater disclosure, puts everybody in a better spot. But [the current focus on ethics] does not dissuade us or stop us from doing what I think the work is that we need to get done."  
Which sounds good. But with about five weeks remaining in Albany's spring legislative session and the corruption cloud still thick, getting much of anything done is going to take more than a change in leaders.