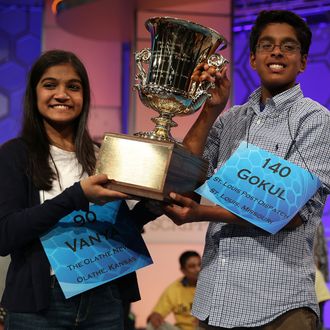 Vanya Shivashankar (L) and Gokul Venkatachalam (R) hold up the trophy after winning the 2015 Scripps National Spelling Bee.
Photo: Alex Wong/Getty Images
For the second straight year, the Scripps National Spelling Bee has produced two co-champions, as neither 13-year-old Vanya Shivashankar nor 14-year-old Gokul Venkatachalam made a single mistake during last night's finals. The organizers were forced to call it a draw after they ran out of words following ten rounds of flawless head-to-head competition from the two winners, who tackled obscure and impossible words like myrmotherine, pyrrhuloxia, hippocrepiform, and sprachgefühl.
Vanya, who hails from Olathe, Kansas, was competing in her fifth national bee and now makes history as the first winner to also be a sibling of a former winner (her sister Kavya, in 2009). Gokul, who is from Chesterfield, Missouri, was one of the final three contestants last year until he was eliminated in the 15th round (by misspelling Kierkegaardian). Regarding the unprecedented back-to-back ties in this and last year's competitions, Paige Kimble, the bee's longtime director, told the Associated Press, "I think it's time to consider that the bee may be entering a new era where the level of competition is so intense that we need to entertain this as a possibility every year."
Tonight's outcome also continues a trend of absolute dominance by Indian American kids, who have now won the competition 8 years in a row, and 12 years out of the last 16. Earlier this week, the Washington Post's Joe Helm pointed out that while Indian Americans comprise less than one percent of U.S. population, they made up more than a fifth of the 285 spellers who competed in this week's bee (and all but three of the ten finalists). Helm goes on to note several possible explanations for the group's success, including the kids' perseverance in returning to the national bee over multiple years, the growth of "minor league" competitions held within Indian American communities, and socioeconomic factors specific to the immigrant group. Speaking with Shalini Shankar, an anthropology professor at Northwestern University who has spent the past 18 months studying U.S. spelling competitions, Helm notes an important pop-cultural component as well:
A milestone [for Indian American success] is the 2002 documentary, "Spellbound," that followed eight spellers on their path to the 1999 national bee and culminates with Nupur Lala's exultant victory. "A lot of the spellers I interviewed said that was the moment they realized, 'We could do this,' " Shankar said. "So, if you count it down from when 'Spellbound' came out, it's about a five- or six-year arc until they really started dominating. The reach of that movie has been much farther than people realized."
Unfortunately, the awesome success of these kids has also led to some racist backlash on social media platforms, presumably among people who would have a difficult time spelling melting pot (or using it in a sentence). According to Helm, yesterday someone even asked national bee director Kimble whether any "Americans" had made it to the finals, to which she responded, "Yes, they're all Americans."
There didn't seem to be any animosity among the contestants last night, though. Whenever a fellow competitor misspelled a word and had to leave the stage, the other kids would send him or her off with a standing ovation. At the end, Vanya dedicated her win to her late grandmother, who passed away in 2013. Gokol, who was wearing a Lebron James jersey under his button-down shirt, said he was just looking forward to the NBA Finals. In addition to bragging rights over the 11 million kids who competed nationwide for a shot at this week's big bee, the two champions will also take home a cool $35,000.