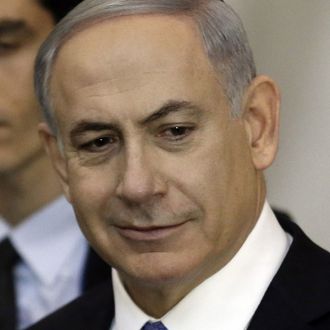 Photo: Thomas Coex/AFP/Getty Images
Prime Minister Benjamin Netanyahu agreed to a last-minute deal with the Knesset's right-wing and religious parties, and finally has the slim majority of seats necessary to form a coalition government.
Netanyahu managed to do better than the polls predicted in the March parliamentary elections, but had an immensely difficult time attracting at least 61 of the 120 members of the Knesset to join his government. The government he managed to cobble together includes many small factions that don't get along, which is sure to make governing all but impossible — and this incarnation of the government a short-lived one.
Netanyahu dissolved the last government partly because he wanted a more controllable Knesset. That does not appear to be the outcome of the election.
Why was it so hard for Netanyahu to form a government, despite the fact that his party, Likud, had won 30 seats? Earlier this week, foreign minister Avigdor Lieberman resigned from his position and refused to let his party, Yisrael Beiteinu, join Netanyahu's coalition. "This is certainly a coalition that," Lieberman told reporters, "to my regret, does not reflect the positions of the nationalist camp and is not to our liking, to put it mildly."
If Netanyahu had not been able to make a deal before midnight on Wednesday, another party — likely the centrist Zionist Union — would have been given the opportunity to form a coalition government. No party has ever won enough seats in an Israeli election to be able to do something other than form a coalition government.