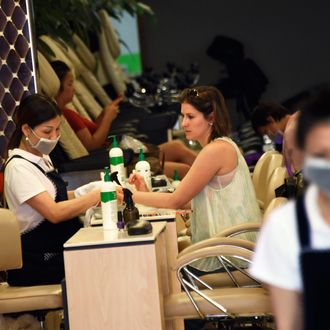 Photo: Justin Lane/EPA/Corbis
In a statement issued on Friday, Mayor Bill de Blasio announced that the city would be taking several measures to overhaul what he called the "deplorable" nail-industry practices that the New York Times recently outlined in its explosive report.
The Times reports that city regulation of nail salons is especially difficult because the state is responsible for overseeing issues such as wage violations and manicurist licenses. However, de Blasio has planned a "day of action" on Thursday where city employees and volunteers will visit nail salons around the city to help inform workers about their rights. Advocates will also visit bus stops and other areas in neighborhoods like Flushing where nail-salon workers often congregate to be picked up for their shifts. Nail salons across the city will receive flyers notifying workers of their right to paid sick leave.
Additionally, New York's Department of Consumer Affairs will begin investigations into the employment agencies that many women use to get hired at nail salons. The goal is to ensure these agencies are not violating laws that make it illegal for them to place workers in positions that pay less than minimum wage.
"We will use all available powers to shield nail-salon workers from deplorable conditions, empower them with awareness of their rights," de Blasio said, "and offer every other support we can to ensure the safety and dignity of our hardworking fellow New Yorkers."