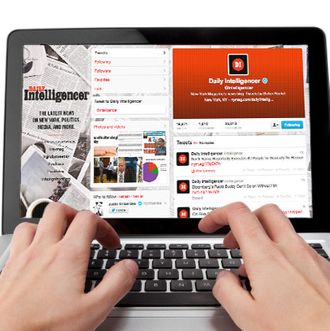 Welcome back to the New York Magazine Competition. On alternate Mondays, we lay out a challenge and offer a sample responses. Enter in the comments section, or on Twitter with the hashtag we've provided, and the editors will select a winner. Criteria are highly subjective, but heavily retweeted and favorited posts will have an advantage. The prize is a year's subscription to New York in print or a two-year subscription to the iPad edition (winner's choice). Full rules are here.
COMPETITION NO. 47: "POINTLESS PROVERBS." Please suggest a seemingly profound saying that, on closer inspection, isn't one. For example:
The smallest kitchen cannot make a hungry man stop cooking.

Who wore it best is less important than who wore it most. 

He who comments rarely responds.

Even the dullest book needs its shelf.
Enter on Twitter with the hashtag #pointlessproverbs, or in the comments thread below, by May 13.
RESULTS OF COMPETITION NO. 46: "LYRICS FOR MAD MEN'S THEME," in which you were asked to compose lyrics for the show's wordless theme song. (See the credits sequence here.) 
HONORABLE MENTION TO:
Ethnics, females
Serve us cocktails.
It was great when 
White men ruled the 
Worrrrrld.
—JDuggar
Peggy's lonely
lives for office
writes her copy
lives with all her
cats.
—SmellyDoofus
Should have stuck with
Rachel Menken
Or Faye Miller
Megan kind of
sucked.
—Classicist
Mad Men, sad men
Cad men, bad men
All philand'ring.
Makes you want to
Scream.
—rmtmiller
Don is falling
In this drawing
Seven seasons
Still no reason
Why.
—alanmarkgreenspan
Alcoholics
And their frolics
Call Duck Phillips
Someone found his  
dog.
—HudsonRiver
Soon, no boozing,
cheating, cruising—
last chance, Don, to
climb up onto
Joan!
—Ninasphere
AND THE WINNER IS:
Jon Hamm, Jon Hamm
Wins no Emmys.
I have never
even watched this
show.
—RegisMayhem