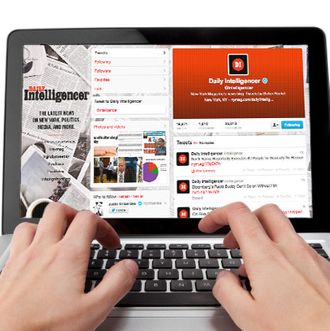 Welcome back to the New York Magazine Competition. On alternate Mondays, we lay out a challenge and offer a sample responses. Enter in the comments section, or on Twitter with the hashtag we've provided, and the editors will select a winner. Criteria are highly subjective, but heavily retweeted and favorited posts will have an advantage. The prize is a year's subscription to New York in print or a two-year subscription to the iPad edition (winner's choice). Full rules are here.
COMPETITION NO. 48: "BROADWAY SEQUELS." Please suggest a followup Broadway show, adapted or original, that may not be Tony-bound. For example:
LES PLUS MISÉRABLES

ON THE TOWN II: RUMSPRINGA

SIDE SHOW II: THE SURGICAL SEPARATION 

MONDAY BACK AT WORK WITH GEORGE
Enter on Twitter with the hashtag #broadwaysequels, or in the comments thread below, by June 3.
RESULTS OF COMPETITION NO. 47: "POINTLESS PROVERBS," in which you were asked to create a pithy saying without so much actual pith. 
HONORABLE MENTION TO:
Black sky at night, everything's all right.
Blue sky at night, it's not night.
—@GMLmusic
Even the darkest clouds have feelings.
—gianna13
If you live it up, you'll have to live it down.
—jade7243 
When in Rome, carry a water bottle and an umbrella.
—JDuggar 
May comes in like a goat, but goes out like a different goat.
—Hey_Joe 
Spare the rod, spoil the video.
—rgqueen 
Night is always darkest before the sun starts to rise.
—queasyrider 
The largest hippo shall never be the smallest mouse.
—BambooLounge 
Hang out all your ideas like laundry on a line, but wrap yourself in the one that does not blow away.
—vanmeterannie 
One man's trash is probably trash.
—riverhawk 
At the end of the day, the Chinese are just getting started.
—JDuggar 
Waste not wanting more than you can chew.
—rmtmiller 
The more things change, the less they stay the same.
—alanmarkgreenspan
Don't be the 53rd card in the deck.
—Lexxman
A girl who kisses on the first date often has trouble with her weight.
—Periclescrystal
You'll get your money when you have one foot out the door.
—Lexxman
Never plant North Carolina tobacco with South Carolina rice.
—SABRA14
A picture is worth a thousand emoji.
— HudsonRiver
Whichever seat in the theater one chooses, it is always the same movie onscreen.
—@nateborgman
The slowest flowing river is still wet to the touch.
—@KevinOfMI
AND THE WINNER IS:
Sometimes plain vanilla isn't.
—ggreg