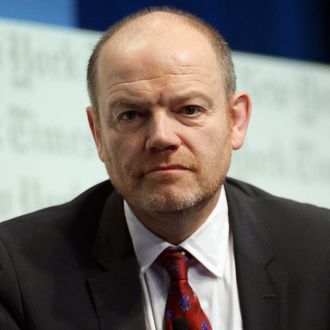 Mark Thompson, President and CEO, The New York Times Company.
Photo: Gustavo Caballero/Getty Images
Wednesday morning, in what marks a tectonic shift in the publishing industry, the New York Times is expected to officially begin a long-awaited partnership with Facebook to publish articles directly to the social media giant, a source with direct knowledge of the talks told me. According to people familiar with the negotiations, the Times will begin publishing select articles directly into Facebook's news feed. BuzzFeed, NBC News, and NatGeo are said to be also joining the rollout, among others. (Update: The Times confirms that Facebook will beginning directly hosting its articles on Wednesday.)
The deal raises all sorts of knotty questions for the Times. How many articles will Facebook get to publish per day? What is the revenue sharing breakdown? How does the Times protect the independence of its journalism, say, if the paper runs a hard-hitting investigation on Facebook? And what happens when the Times allows Facebook to insert itself between its journalism and its readers? 

Not surprisingly, the prospect of a Facebook partnership is generating palpable anxiety inside the Times newsroom, with some Times journalists casting it as an end-of-the-Times-as-we-know-it inflection point. When rumors of a deal surfaced last October, the Times' late media columnist David Carr articulated this view, writing, "The wholesale transfer of content sends a cold, dark chill down the collective spine of publishers, both traditional and digital insurgents alike."

Another source of anxiety: the secrecy around the deal. "It's referred to as the 'confidential project.' No one will talk about it," one senior Times executive told me.

The talks have been dragging out for weeks as Times CEO Mark Thompson has pushed for the most favorable terms. According to one source familiar with the talks, a major sticking point for the Times has been ensuring that any Facebook deal protects its paid digital audience, which is crossing the crucial 1 million subscriber mark. "The New York Times' obsession with this product is their subscribers," the source said. "They shouldn't kill their subscriber business and the data around that." Officials with the Times and Facebook did not respond to requests for comment.
As much as anything, the Facebook deal is a concession by Times publisher Arthur Sulzberger Jr. that the paper's app strategy failed to produce the turnaround the company hoped for. Now the Times is throwing its fate into Facebook's hands. "This is really about the crown jewels," a senior media executive familiar with the deal told me. "The stakes are that high." 
UPDATE: This afternoon, a Times spokesman contacted me to point out that the Times views its Facebook partnership as an "experiment." In a statement, Eileen Murphy, the Times' vice-president for corporate communications, wrote: "There is an engaged and growing audience on Facebook for The Times, and our goal in participating in Instant Articles is to improve that audience's experience with our journalism on the global Facebook platform, deepen their engagement with The Times and ultimately develop a more seamless way to convert them into subscribers. Moving forward, we plan to experiment with how much content we provide and what kinds of articles we will feature."