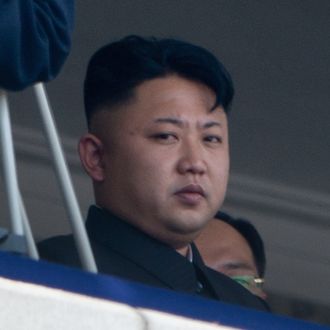 Kim Jong-un.
Photo: ED JONES/2013 AFP
In case you're sick of worrying about ISIS, here's a disturbing update from North Korea. The country's military just announced that it can miniaturize nuclear weapons, which would allow them to be delivered via missile. "We have had the capability of miniaturizing nuclear warheads, as well as producing multiform weapons, for some time," said the statement on state-run Korean Central News Agency. "We can also guarantee the accuracy not only of short-to-mid-range but also long-range rocket launches, for which we have had the technology for a long time."
The North Korean government is usually one of the worst sources for information about North Korea's weapons capabilities, but in this case top U.S. military officials agree. General Curtis Scaparrotti, commander of U.S. forces on the Korean peninsula, said in October that he believes the North Koreans "have the capability to have miniaturized the device at this point, and they have the technology to potentially actually deliver what they say they have." On the other hand, he said they'd probably need to test the system extensively before it's truly usable, and Rear Admiral John Kirby, the Pentagon press secretary, said at the time that there was no "smoking piece of evidence" that the North Koreans had actually miniaturized nukes.