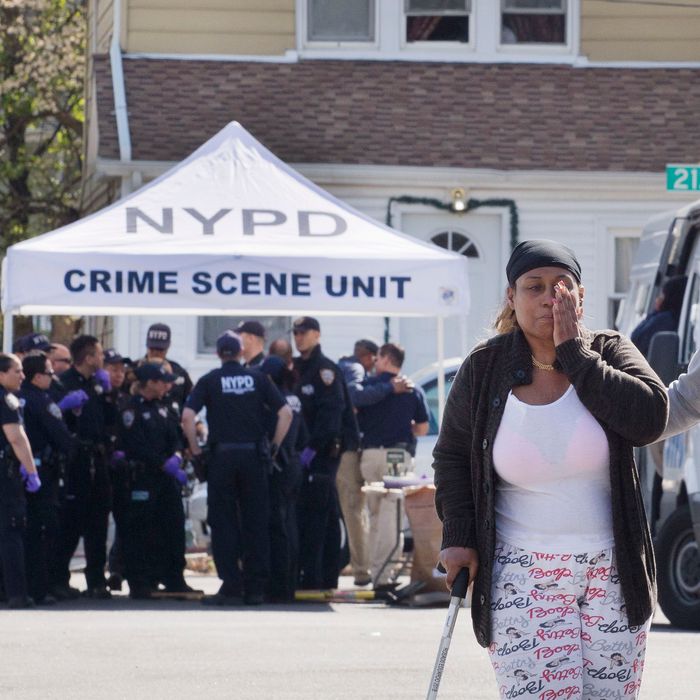 An unidentified woman wipes her face after talking with police officers Sunday, May 3, 2015 about the shooting of a police officer in Queens.
Photo: Mark Lennihan
The Saturday night shooting of police officer Brian Moore is a tragedy. By far the most important uncertainty afterward is whether Moore recovers from being hit in the face at close range. But the attack on Moore could also have oversize political fallout, because it arrives at a fraught moment in the argument about what's necessary to keep the city safe.
The 25-year-old Moore and a plainclothes partner were apparently trying to stop and question Demetrius Blackwell on a street in Queens Village, after spotting Blackwell "adjusting an object in his waistband," according to police commissioner Bill Bratton. Taking guns off the street is some of the most dangerous and important work done by cops — and it's a goal that has been one of the biggest justifications for the NYPD's aggressive use of stop, question, and frisk and of "broken windows" policing.
The first tactic has been drastically curtailed, beginning in the final years of Ray Kelly's term as police boss, then accelerated by court rulings and the election of Bill de Blasio as mayor. Now broken windows is in the middle of a heated reevaluation stoked by City Council speaker Melissa Mark-Viverito.
In February, his relations with the NYPD still raw after the shooting deaths of two cops in Brooklyn, de Blasio barely touched on police reform during his State of the City speech. One week later, Mark-Viverito made criminal justice proposals the centerpiece of her own annual speech.
Mark-Viverito's agenda included a bail fund that would shorten jail stays for low-income New Yorkers. What's proving far more contentious is her push to issue summonses, instead of making arrests, for quality-of-life crimes like public urination and fare-beating.
The council speaker certainly cares about keeping crime low. But when I ask Mark-Viverito how confident she is that her ideas wouldn't decrease public safety, she is surprisingly vague. "We're studying what those effects are," she said. "It's one of the things we're investigating, where other municipalities are treating these issues as civil and not criminal."
Her emphasis is on rebalancing a criminal justice system that arrests minority New Yorkers at a rate disproportionate to their share of the population. "The point," she said, "is to be more efficient and fair, especially to people of color. To make the system more equitable."
On the surface, the lines of the debate seem clear. Mark-Viverito is in favor of downgrading petty offenses like drinking from an open container. Bratton, a pioneer of the broken windows strategy, has been hyperbolic in his criticism, claiming the bad old '70s might come "roaring back." And de Blasio is straddling the middle, backing up his police commissioner while trying not to antagonize his political base of liberal and minority voters.
The real angles are more opaque. The council speaker has leavened her liberal ideas by advocating, for the second year in a row, the hiring of 1,000 new cops. The mayor has been cool to the notion, but hasn't dismissed it completely.
Bratton, as usual, is playing the most sophisticated and calibrated political and public relations game. Last week he issued a report showing that arrests for minor crimes are already way down — while emphasizing the need to hold on to the option to arrest, so that the NYPD can ID suspects and pursue outstanding warrants. If a compromise is ultimately struck, with some violations now meriting fines instead of arrests, Bratton can appear to have been forced into it by Mark-Viverito — and would probably win an increase in NYPD headcount from his boss the mayor in the process.
The momentum toward a retooling of "broken windows" seemed to have increased in the days after Baltimore cops killed Freddie Gray and angry protesters charged back into the streets. But the Moore shooting will shift the political mood, even if there's no practical connection between it and, say, walking through a city park after dark.
"We're deeply appreciative of what police officers do every day, and this is a senseless tragedy," Mark-Viverito says on Sunday night. "But when something like this happens, emotions impact the debate, and that will play a role in how people feel about the issues."
On Monday she expects to receive a letter from Bratton in which the commissioner formalizes his response to her proposals. "We'll analyze it and respond in kind," she says. But after months of energetically driving the debate, Mark-Viverito sounds highly uncertain as to where all the talk will end up.