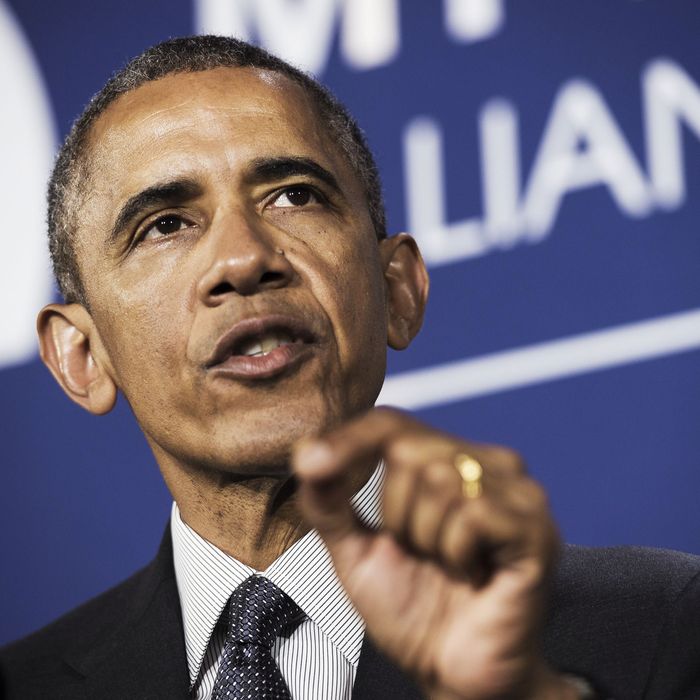 President Barack Obama speaks at an event at Lehman College.
Photo: Nicholas Kamm/AFP/Getty Images
President Obama may have more than a year and a half left in his presidency, but as coverage of the 2016 presidential election has people impatient to learn more about who will next run the White House, people have grown equally antsy wondering what Obama will do when he leaves. Increasingly, observers assume that his post-presidential activities will include My Brother's Keeper, especially since the initiative keeps growing.
At an event at Lehman College in the Bronx today, Obama announced a new offshoot of the program he designed to provide opportunities for young boys growing up in disadvantaged circumstances in 2014, My Brother's Keeper. My Brother's Keeper Alliance is a privately funded nonprofit that has already raised $80 million, and which hopes to get business leaders and celebrities involved in Obama's mission. Former attorney general Eric Holder, former Secretary of State Colin Powell; Senator Cory Booker, Shaquille O'Neal, John Legend, and businesses like News Corp. and BET will all be involved. One of the program's main goals is to get 50,000 more students of color into secondary education programs. 
"The future will be in good hands as long as we are giving them the love and the support that they need," he said at the event at Lehman College, adding that too many young men of color were spending years in prison for minor drug offenses, and that the only difference between Obama and the men being helped by My Brother's Keeper was that "I grew up in an environment that was a little more forgiving." The key to the program, Obama concluded, was making sure kids know that they "matter to us." 
"Really that's what this comes down to," he said. "Do we love these kids? … We should love every one of our kids, and then we should show that love, not just give lip service to it."
Or as he put it in another part of the address, "There are consequences to indifference."
Last week, Obama told a middle-school student who asked what the president wanted to be when he was done being what he wanted to be when he grew up, "So I'll go back to doing the kinds of work that I was doing before — just trying to find ways to help people, help young people get educations, help people get jobs, help bring businesses into neighborhoods that don't have enough businesses. That's the kind of work that I really love to do."
On Monday, Obama expanded his thoughts on this topic, specifically referencing the work My Brother's Keeper was doing. "This will remain a mission for me and Michelle not just for the rest of my presidency, but for the rest of my life."
Obama devoted a segment of his speech to policing, mentioning the NYPD officer Brian Moore, who died today from a gunshot wound. "He came from a family of police officers," he said. "And the family of fellow officers he joined in the NYPD and across the country deserve our gratitude and our prayers, not just today but every day. They've got a tough job."
"We ask police to go into communities where there's no hope," Obama added, alluding to the situations in Baltimore last week, or in Ferguson last year, and in many other places across the country. "Eventually something happens because of the tensions between society and these communities, and the police are just on the front lines of that." 
However, as his belief in My Brother's Keeper and focusing on opportunities already demonstrated, Obama also believes that the "problems are something that goes deeper than policing. It speaks to who we are as a nation and what we're willing to do to make sure that equality of opportunity is not an empty word."
In February, one year after the announcement of the original My Brother's Keeper program, the White House released a report on how it was doing. The executive branch deemed it a success by noting how many local leaders had signed up for the initiative's community challenge — nearly 200, including New York Mayor Bill de Blasio, which the Washington Post has argued is a sign of the White House's especially strong ties with cities. 
Obama's trip to New York City also acknowledged that there was a lot of stuff he is likely less enthused about left to be done before he can work on stuff like My Brother's Keeper full-time. The president is also making two fund-raising pit stops for the DNC and will appear on David Letterman's show for the last time.