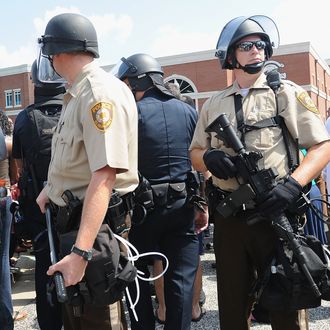 Photo: Michael B. Thomas/2014 Getty Images
During a visit to Camden, New Jersey, today, President Obama will announce that the federal government will no longer provide local police departments with military-style weapons such as tracked armored vehicles, camouflage uniforms, and high-power rifles. The ban comes in response to growing tensions and distrust between police and communities, which is fueled in part by the militarization of police forces.
Among the weapons that will no longer be provided by the federal government are "armored vehicles that run on a tracked system instead of wheels, weaponized aircraft or vehicles, firearms or ammunition of .50-caliber or higher, grenade launchers, bayonets or camouflage uniforms," according to ABC News. There is a long list of other equipment that will also be more tightly controlled, including "Humvees, manned aircraft, drones, specialized firearms, explosives, battering rams and riot batons, helmets and shields." 
A new 116-page report compiled by a task force assembled by the president examined the relationship between police and communities, and found that there is a "substantial risk of misusing or overusing" high-grade military weapons provided to departments. The report offers a series of recommendations for how to improve community relations with police, and Obama will provide $163 million in grants to police departments who work to adopt the suggestions. 
"We are, without a doubt, sitting at a defining moment in American policing," said Ronald L. Davis, a director at the Department of Justice. "We have a unique opportunity to redefine policing in our democracy, to ensure that public safety becomes more than the absence of crime, but it must also include a presence for justice."