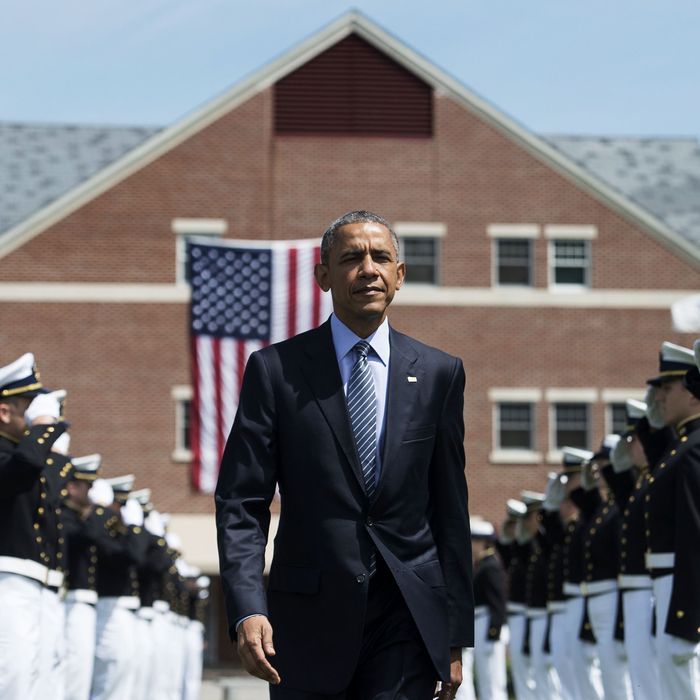 President Barack Obama arrives to deliver the keynote address during the 134th Commencement Exercises of the Coast Guard Academy.
Photo: Nicholas Kamm/AFP/Getty Images
President Obama spoke to graduating cadets at the Coast Guard Academy on Wednesday, warning them specifically about how climate change would affect their careers. "Climate change constitutes a serious threat to global security, an immediate risk to our national security, and make no mistake," he said, "it will impact how our military defends our country."
"You are the first generation of officers to serve when the dangers are so clear," he said. "When storms gather, we get ready."
Obama may have been there to offer graduation advice, but his remarks were forcefully political. "Now," he said, "I know there are still some folks back in Washington who refuse to admit that climate change is real. And on a day like today, it's hard to get too worried about it. There are folks who will equivocate. They'll say, 'You know, I'm not a scientist.' Well, I'm not either. But the best scientists in the world know that climate change is happening."  
Meanwhile, back in Washington, a few lawmakers offered advance negative reviews of Obama's remarks. Senator John Barrasso told the Senate floor, "I think many Americans would be astonished to learn that the president's planned discussion on national security is going to center on climate change. The fall of Ramadi in Iraq, the brutal terrorist attacks by ISIS, these are clear examples of the real threats that must be addressed by President Obama."
Obama's effort to link national security to climate change didn't debut today. The 2015 National Security Strategy released in February warned that "Climate change is an urgent and growing threat to our national security, contributing to increased natural disasters, refugee flows, and conflicts over basic resources like food and water."
The president has also made several environmental pit stops this year — he went to the eroding Everglades for Earth Day and will be heading to Paris at the end of the year to try to hammer out international agreements on how to address the changing climate. The White House has already pledged to cut carbon emissions by nearly a third over the next ten years. 
Other countries are trying to ramp up excitement and interest in the United Nations–led Paris talks; German Chancellor Angela Merkel and French President François Hollande announced yesterday that they plan to "decarbonize fully the global economy over the course of this century" and push for an "ambitious, comprehensive and binding" agreement this year. Hollande also conceded that such a feat would be difficult. "We must have a consensus. If within our own country, that's difficult, imagine what it's like with 196 countries," he said. "A miracle!"
Even states are getting involved. Oregon, Washington, Vermont, and a few countries around the world signed an agreement on Tuesday to get carbon-emissions levels to be 80 percent below what they were in 1990 by 2050. 
Obama has several other big and controversial environmental items to deal with. The Environmental Protection Agency's plan to cut emissions at coal-fired power plants is currently facing heat in Congress, while his decision to open up parts of the Arctic for oil exploration is facing heat from advocates. The White House still hasn't decided what to do with the Keystone XL pipeline — and environmentalists are especially eager to see the outcome of that fight, which has gone on for years. 
"And," as Obama said, alluding to scientists' fears about how quickly we need to address climate change and perhaps his own approaching political finish line, "time is running out."