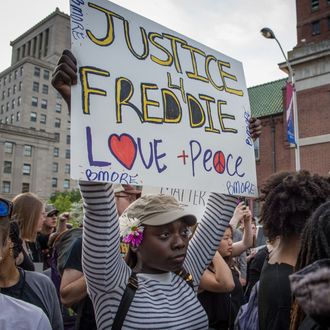 A woman protests Freddie Gray's death across the street from the Baltimore Police Western District on April 23, 2015 in Baltimore, Maryland.
Photo: Copyright Ken Cedeno 2015
A lawyer for one of the six Baltimore police officers charged in the Freddie Gray case is insisting that the knife officers found on Gray was illegal, and he filed a motion Tuesday to get access to it. The claim directly contradicts what prosecutor Marilyn Mosby said last week when she announced that Gray had been in possession of a legal knife, making his arrest unjustified. The lawyer represents Officer Edward Nero, who has been charged with unlawful imprisonment, second-degree assault, and official misconduct.
What's at issue is whether Gray's knife had "an automatic spring or other device for opening and/or closing the blade" and thus violated Baltimore City code. Both the original police report and a subsequent finding by a police task force determined that Gray's knife was spring-assisted and therefore indeed illegal. Mosby says otherwise, but so far the city hasn't provided additional details about the knife to support her assertion. If it was spring-assisted, that would mean the arrest was justified under the law. As Baltimore attorney Andy Alperstein, who has experience defending police officers, told the Associated Press, "If the facts were that the knife was illegal then the Gray arrest would be justified. Even if it wasn't illegal and the officers acted in good faith, it would be the same result. All charges fail."
Then again, should what kind of knife Gray had even matter? Activists in Baltimore contend that the officers didn't have enough probable cause to stop and search him in the first place.