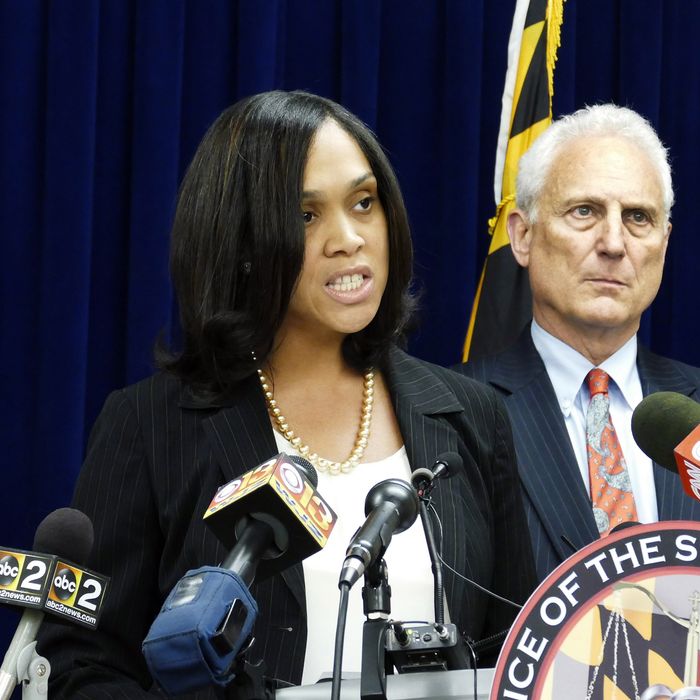 Marilyn Mosby announces the indictments of six Baltimore police officers related to the arrest and death of Freddie Gray.
Photo: Kevin Richardson/TNS/ZUMA Wire
Earlier this month, when Baltimore prosecutor Marilyn Mosby announced criminal charges against six police officers in the death of Freddie Gray, many criticized her for not waiting for a grand jury to review the case and make their own judgment first. Now that's happened, and yesterday Mosby announced that a grand jury had in fact agreed to indict the six officers, both approving and amending the original charges she sought. Those crimes include second-degree "depraved heart" murder for one of the officers, manslaughter for four, and assault and misconduct in office charges for all six. The indictments also removed the false imprisonment charges against the officers who had originally arrested Gray, but added charges of reckless endangerment for each defendant, a move the Baltimore Sun reports may be a hedge in the event prosecutors are unable to prove the more serious crimes at trial.
Gray, a 25-year-old African American, was arrested on April 12 and died a week later from injuries he allegedly received while in police custody. His death led to protests and rioting in Baltimore, triggering a city-wide curfew as well as deployment of the National Guard to help quiet the unrest. After an investigation, officials in Baltimore determined Gray suffered his ultimately fatal injury as a result of being unsafely transported in the back of a police van, and the medical examiner ruled his death a homicide. What's not yet known, however, is how much evidence, if any, the grand jury in Baltimore was able to review. Regardless, these indictments are nearly unprecedented in a city where only five officers in the past 30 years have been indicted for killing a suspect while on duty. Of those, only one was convicted, and that verdict was overturned on appeal. In other recent cases when grand juries investigated possible unlawful killings by officers in Ferguson, Missouri, and Staten Island, New York, neither chose to indict. Furthermore, the Washington Post determined that nationwide only one third of police officers accused of crimes are ultimately convicted — half the conviction rate of the general population. In other words, it remains to be seen what Baltimore prosecutors will be able to convince a judge or jury of in this case. The six officers, who are currently free on bail, will be arraigned on July 2.
In the meantime, Baltimore faces the troubling possibility that Freddie Gray's death and the subsequent fallout may have dramatically affected policing in the city, and not for the better. The Daily Beast's Katie Zavadski and Justin Miller point out that in the western city district where Freddie Gray was arrested, shootings have gone up 800 percent and other crimes by 100 to 300 percent — all while arrests have plummeted. This is leading some in the city to believe that police are deliberately holding back their efforts as a result of the Gray case, a charge police officials deny. Instead they insist that criminals are simply making the worst of the city's heightened tensions. Either way, yesterday Baltimore recorded its 100th murder of the year, 22 of which have come in Freddie Gray's district alone, now surpassing the total number of homicides in that part of the city over all of last year.