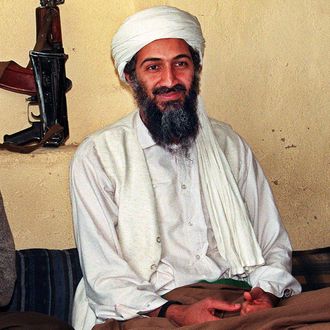 The U.S. Office of the Director of National Intelligence released more than 100 declassified documents found in Osama bin Laden's compound after the raid that ended with his death in 2011 on Wednesday. 
The documents include a reading list of all the English-language books found in digital PDF files. The Al Qaeda leader's favorite topics included 9/11 conspiracy theories, Illuminati conspiracy theories, Illuminati 9/11 conspiracy theories, Freemason conspiracy theories, CIA conspiracy theories, U.S. financial system conspiracy theories, international elite conspiracy theories, and long explanations of why the United States isn't so great anymore. 
Intelligence officials concluded that "bin Laden was probably an avid conspiracy theorist," as one told BuzzFeed. 
Bin Laden also appeared to be reading Bob Woodward; Noam Chomsky; think-tank reports on terrorism; a Washingtonian magazine article that sought to answer, "Why does Osama bin Laden invoke the Koran?"; Popular Science's 2010 "Best Innovations of the Year" list; a Time magazine article about American Online stock tanking; and several Newsweek articles. 
There were other reading materials that intelligence officials assumed were being used by other people in the compound, including the Guinness Book of World Records'$2 2008 Children's Edition, a sports nutrition guide, a guide for the video game Delta Force: Xtreme 2, and a suicide-prevention manual. Someone also appeared to be making T-shirts at the compound, or at least thinking about it; silkscreening instructions were also found. Letters sent between bin Laden and his family, and many other various documents, were also translated and declassified. An Al Qaeda application in the pile asked, "Who should we contact in case you become a martyr?"
A government official told BuzzFeed that the release of information had "nothing to do" with Seymour Hersh's story offering an alternate telling of the Abbottabad raid published last week. The investigative reporter questioned the existence of a "treasure trove" of useful documents. The federal government has not released all the documents found at the compound yet; many are still classified. Officials noted in a press release today that "all documents whose publication will not hurt ongoing operations against al-Qa'ida or their affiliates will be released."
The Guardian reports that the "fairly extensive" pornography stash found during the raid will not be released "due to the nature of their contents" and declined to discuss the subject with the reporter in any more detail.