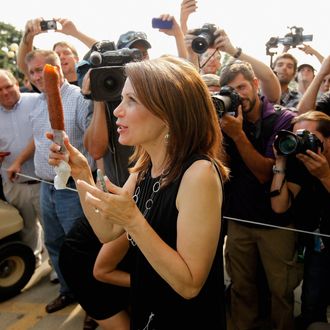 This could have been you, Jeb.
Photo: Chip Somodevilla/Getty Images
Jeb Bush, who has not yet announced that he is running for president because he is busy raising beaucoup bucks with his super PAC, has decided to skip the Iowa Straw Poll, an early presidential primary tradition that former Representative Michele Bachmann won in 2011. Bachmann went on to not win the Republican presidential primary. In 2007, Mitt Romney won the Iowa Straw Poll. He came in seventh place four years later. Jeb Bush is currently in seventh place in Iowa, according to the latest polls. The chair of the Iowa Republicans tweeted that he hopes Bush "rethinks his decision and realizes that grassroots will only grow in Iowa if he waters them," logic that worked wonders for recent Iowa Straw Poll winners.