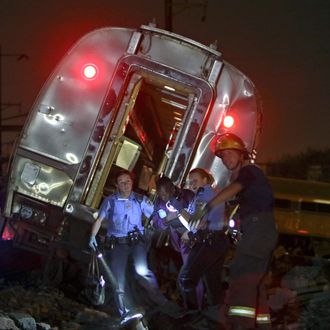 Emergency personnel work the scene of a deadly train wreck Tuesday, May 12 in Philadelphia.
Photo: Joseph Kaczmarek/AP/Corbis
All 238 passengers on the Amtrak train that crashed outside of Philadelphia on Tuesday have been accounted for, according to Mayor Michael Nutter. An eight victim was found by a cadaver dog this morning, and eight passengers being treated in hospitals are in critical condition, although all are expected to recover fully. More than 40 people are still being treated in nearby hospitals.
Dr. Herb Cushing, chief medical officer at Temple University Hospital, described the types of injuries doctors were dealing with. "The injuries were sustained by most folks because they had things fall on them," he said, according to NBC News. "And those things included other people. That was a very common story that I heard."
Investigators are continuing to try to determine the cause of the crash, which occurred after the train took a curve at around 106 mph. The train was not equipped with positive train control, a system that can automatically slow trains that are going dangerously fast and will be required in all trains by the end of the year. Even without that system, trains are supposed to blink and flash when going too fast to warn the driver; investigators aren't positive this was the case with the train in question. The emergency brake on the train was reportedly fully deployed before the crash occurred. 
The train's engineer has been identified as 32-year-old Brendan Bostian. Robert Goggin, the engineer's lawyer, went on Nightline and said Bostian "has absolutely no recollection of the incident or anything unusual. The next thing he recalls is being thrown around, coming to, finding his cell phone and dialing 911."
Bostian's injuries led him to need 14 stitches in the head, and staples in his leg. He gave authorities a blood sample and his cell-phone number but declined an interview with the police on Wednesday, CNN reports. Nutter discussed the engineer on CNN last night, saying, "There's no way in the world that he should have been going that fast into the curve. Clearly, he was reckless and irresponsible in his actions. I don't know what was going on with him."
Five Amtrak employees were aboard the train on Tuesday night.
In Philadelphia, Marc Gildersleeve was handing out fliers of his father, Bob, who was declared dead on Thursday. Bob Gildersleeve's father was with his grandson. "My son is missing," he told ABC2. "My grandchildren are broken hearted and I'm cried out … I can't cry no more; I wish I could." 
By Thursday morning, most of the cars had been lifted off the crash site with cranes. The train tracks nearby were quiet; Amtrak service is still suspended along parts of the Northeast Corridor's route. 
Several of those killed in the crash were heading home for the night on the train. There was 20-year-old Justin Zemser, in his second year at the U.S. Naval Academy, 39-year-old Rachel Jacobs, CEO of the start-up ApprenNet and mother to a 2-year-old, and Jim Gaines, a 48-year-old video-software architect at the Associated Press with two daughters. Five other passengers were confirmed dead: Gildersleeve, Derrick Griffith, dean of student affairs and enrollment management for Medgar Evers College, Abid Gilani, senior vice-president at Wells Fargo Bank, New York real estate executive Laura Finamore, and Giuseppe Piras, an Italian national. 
Quick sketches of the unexpectedly abbreviated lives of the victims have appeared in many publications, and reporters found no shortage of wonderful memories from family, friends, and co-workers to put in them. Gaines' family said he was "more precious to us than we can adequately express." Sen. Charles Schumer and Rep. Gregory Meeks nominated Zemser to the Naval Academy, and were impressed by his "high character, intellectual curiosity, and maturity beyond his years." Gilani's uncle noted that he had been returning home after going to a funeral in D.C.  Danna Leiner Gildersleeve said of her husband, "He has been my best friend for 29 years and we just celebrated our 18th wedding anniversary and Mother's day on Sunday … Our hearts are broken and we can't imagine a life without him." Jacobs' family said she "was a wonderful mother, daughter, sister, wife and friend" and Finamore's family said "she was always there when you needed her ​— with a hug, encouraging words, or a pat on the back." CUNY called Griffith a "champion for the downtrodden."
"We are heartbroken by what has happened here," Nutter said. "We have not experienced anything like this in modern times."