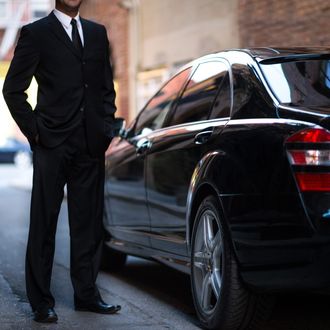 Uber has become an increasingly noticeable presence in politics because of its lobbying efforts, its determination to keep hiring former Obama staffers, and its frequent appearances on campaign expenditure reports. 
A new report from the Center for Public Integrity shows that nearly 300 federal politicians and PACs reported more than $278,000 of spending on at least 7,625 Uber rides during the 2014 midterms.
Hardly anyone used Sidecar or Lyft.
During the 2012 election cycle, committees spent about $15,000 on Uber rides. Uber addiction is not an affliction limited to one party. As Annie Lowrey wrote last year when explaining this trend, "It's a rare cause that can enlist both David Plouffe and Grover Norquist."
Cory Booker's reelection campaign was the top spender in the Senate, with a $4,689 Uber tab. However, Tom Cotton's Senate campaign, Marco Rubio's fund-raising committee, and Rand Paul's leadership PAC also spent thousands on Uber rides. 
Rubio and Paul, both vying for the Republican presidential nomination, have mentioned Uber before in books or remarks.
As The Wall Street Journal reported last year, the single largest Uber receipt reported came from former Representative Aaron Schock. Schock argued that the $1,317 item probably represented a number of Uber rides added together. "[There's] no way to take an Uber that long," he said. The biggest spender in the House was Wisconsin Representative Gwen Moore, who doesn't own a car in D.C. and had two knee surgeries in 2013. Her campaign spent $16,938 on Uber rides. 
The Center for Public Integrity found few politicians or political committees who wanted to comment on their large Uber bills, especially since a few of them have been publicly skeptical about the company.
Last year, D.C. cab drivers protested the success of Uber and similar apps near the Capitol, complaining, "We're overregulated and Uber's not regulated at all." Several legislators have pushed the services to conduct more background checks and other measures to protect the safety of riders, or have questioned some of the new companies' policies.
Uber has deployed eight lobbyists to the Hill in 2015, several of whom used to work on the Hill. The company is currently thinking of ways to get more involved in the 2016 election, besides chauffeuring around candidates. Letting campaigns book rides for voters, for example.