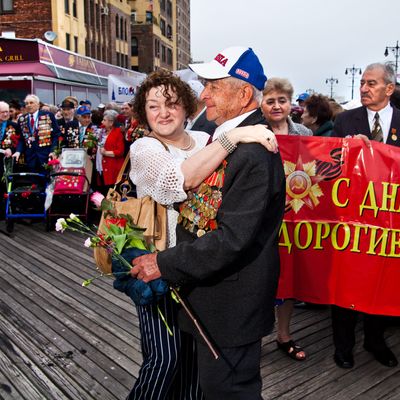 Photo: Konstantin Sergeyev
Seventy years ago on Saturday, the former Soviet Union found out that Germany had surrendered World War II — known there as the Great Patriotic War. Because the surrender was signed after midnight Moscow time, celebrations in ex-Soviet states still occur on May 9, a day after Victory in Europe Day. More than 20 million Soviet citizens, civilians and military, died during the war. Estimates say that more than 8 million of them were killed while fighting. The day is a remembrance of family and of a type of Soviet glory that was never really recaptured.
In Brooklyn's own corner of the former Soviet Union, Brighton Beach, community organizations hold an annual parade to celebrate the survivors and remember those who perished. Each year, the number of veterans dwindles. According to tradition, onlookers bring flowers to give to men and women who served. Many also bring out enlarged, laminated photographs of family members who fought. Veterans — and their progeny — wear medals they were awarded: Those from the war effort are distinctive, often featuring red flags or images of Stalin, while others are from periodic commemorative celebrations. They are mobbed by onlookers who want to take photographs with living history.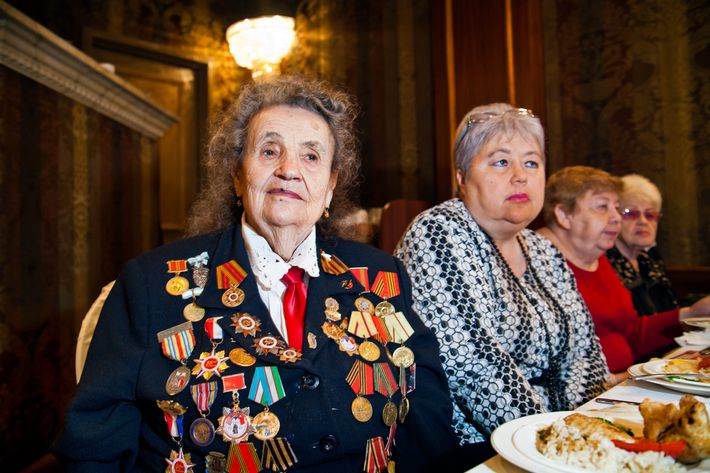 Ninety-year-old Asya Gindina, pictured above at an invitation-only lunch sponsored by the Council of Jewish Emigre Community Organizations after the parade, has medals for wartime bravery and for bearing nine children in the postwar years. "When the war started, the Nazis took my city without a battle," she recalls. Her parents were shot, seven siblings died, and she fled to Korosten, where she joined the war effort at 16 and became a nurse. "We liberated Stalingrad, and there I saved my future husband's life by pulling him from a burning tank," Gindina says. "He told me, 'If I survive, I will find you.'" They reunited after the war, after two years of searching. In her Starrett City building, she met two other veterans — both men she also rescued on the battlefield.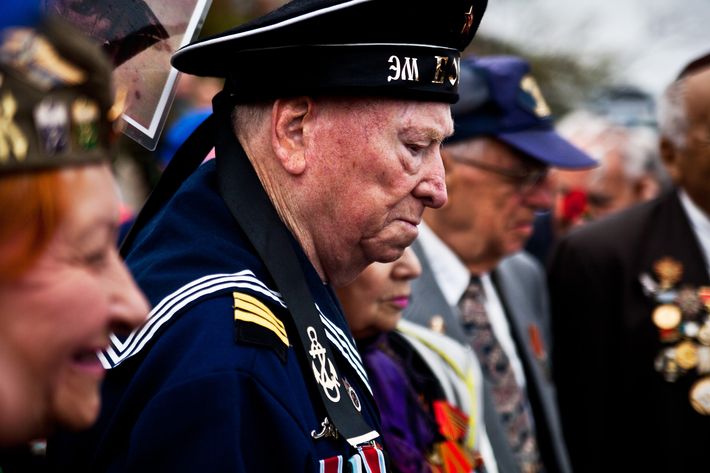 "Look at how many clients I have," jokes Iosef Kuglack (above), a former Soviet sailor who's a very popular target for people looking to get a photograph with one of the veterans. The 89-year-old served in the Black Sea Fleet during the war, which onlookers say was known by Germans as the "Black Death." "The most important thing is that we remained to live after the war, that's the most important thing," Kuglack says. He found out about the war's end through the radio, but his service wasn't over — Kuglack remained with the Black Sea Fleet, serving out a total of seven years instead of the regular five. "The war years didn't count towards my service years," he explained.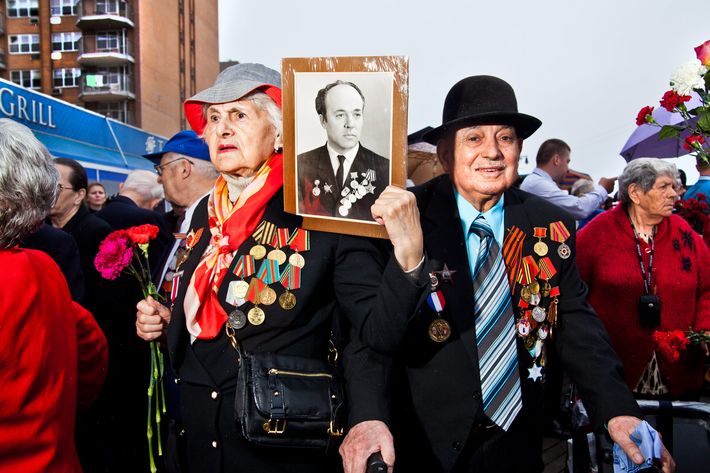 Anastasia Mudrik, not pictured here, was a nurse in the Soviet army, eventually working her way up to being a lieutenant in the medical service. "I carried the wounded off the battlefield, and I received the Order of the Red Banner in 1941," the 94-year-old says, proudly emphasizing that she has one of the first issues of the prestigious war medal. Like many, she finished out the war in Japan, after Victory Day. "She carried 41 wounded men off the battlefield, in December, in the winter," boasts her daughter. But Mudrik is more modest: "I can't say I did it myself. They helped me any way they could."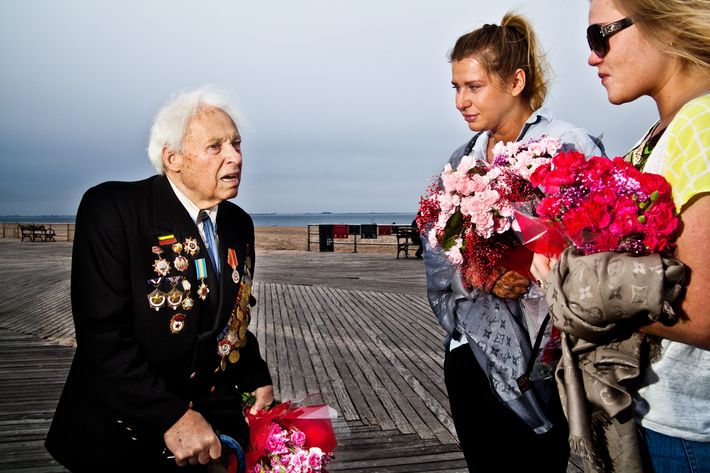 Valetin Yershov says he first fought, and then he served some more — despite war injuries. "Between 18 and 19, I was wounded twice," he says, as he fingers the yellow and red stripes on his jacket gingerly. "A difficult wound is the yellow stripe, and the red, a 'light one,' though I wouldn't call it that." He helped liberate Ukraine, Belgrade, Budapest. "We ended the war in Czechoslovakia," he says. He and his wife won a green card to the U.S. in 1998, and, he says, they "opted for a change of scenery."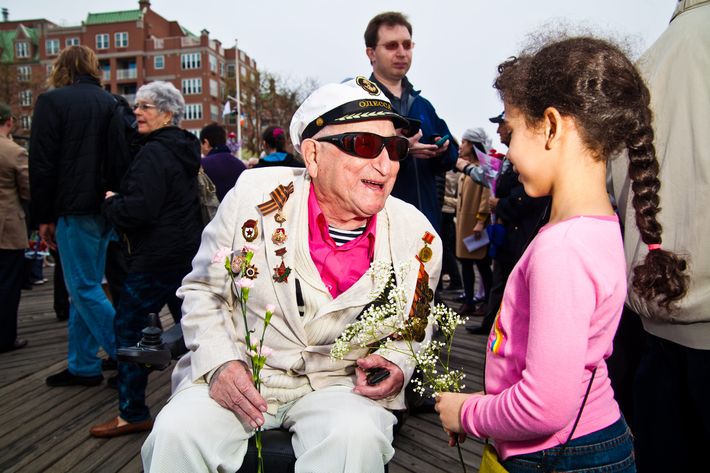 "We killed fascists," Miron Goldsheyt says simply. Originally from Odessa, he says he served "everywhere for a little bit" during the war. "It was very scary, and those who survived are heroes. They remember this day," he says. "No one will be able to steal our victory from us," he adds, referring to the Soviet army.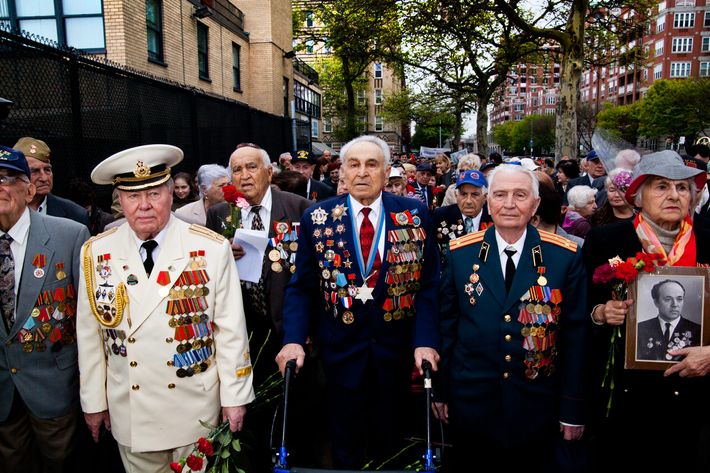 The parade, which drew several hundred people, was led by veterans, with concentration camp survivors and other supporters following behind. Boris Rosenberg, pictured above with the walker, is a leader of one of New York's veterans' groups. "Dear friends: We were dealt a very difficult life, and the move to America inspired us in many different ways," he told those veterans gathered at the celebratory luncheon. "We won the war together, and we will never forget the aid the American people gave us during the war."