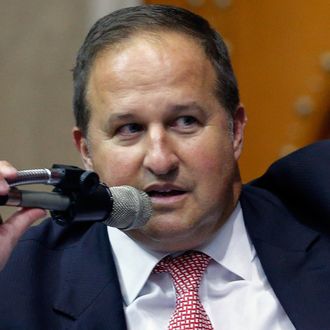 John Diehl, also known as Frank Underwood.
Photo: Orlin Wagner/AP/Corbis
Update: A day after this story broke, Missouri House Speaker John Diehl resigned from the state legislature. "I have acknowledged making a serious error in judgment by sending the text messages," he said in a statement. "It was wrong and I am truly sorry. Too often we hear leaders say they're sorry but are unwilling to accept the consequences. I understand that, as a leader, I am responsible for my actions and I am willing to face the consequences."
"I was thinking abut what you said you wear to bed."
Who texted it: Frank Underwood, or a state politician from Missouri? After today, those answers are unfortunately no longer mutually exclusive, thanks to a report from the Kansas City Star about sexting, power, emoji, and Milan.
The newspaper obtained texts reportedly sent between Missouri House Speaker John Diehl and a college freshman interning at the state Capitol. Shortly before these texts were found, Missouri Southern State University decided to end its 20-year-long legislative internship program more than a month early. Diehl declined to comment when the Star repeatedly called, and the intern told the newspaper that the text messages were not real — something contradicted by multiple sources. The Star posted a trove of text messages, some of which featured photos of Diehl on a trade mission with Governor Jay Nixon in Europe. He stood next to a car in Munich ("That suit and tie combo is sexy and you look great. I see a lot of work is happening"), and took a photo of a table in Milan ("My goodness, that's even prettier! Has Jay been with you the whole time?").
Diehl was listed as "Frank Underwood [smirk emoji]" in the intern's phone, in case you had any difficulties coming up with awful things to think about this story after reading the above paragraphs or were just itching for a new opportunity to debate the veracity of House of Cards.