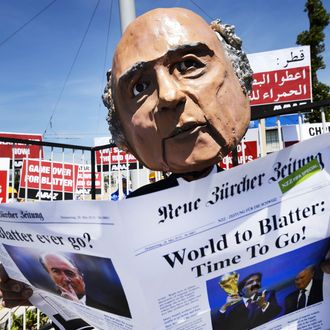 A demonstrator disguised as FIFA President Sepp Blatter takes part in a protest.
Photo: Fabrice Coffrini/AFP/Getty Images
A day after the Justice Department charged several top FIFA officials with racketeering, wire fraud, and money-laundering conspiracies, the takes and statements are flying in nonstop. Most involve Schadenfreude or at least condemnation, but soccer's international orchestrator still has at least one friend left — Vladimir Putin. 
The Russian president managed to connect the FIFA indictment to Edward Snowden and Julian Assange. In regards to the situation of the former contractor who revealed NSA's data collecting, "Everyone," Putin said, "including Europe, is talking about this but nobody wants to give him asylum, guarantee his safety, nobody wants to quarrel with their partners, their old partners." He then moved on to the Wikileaks founder. "What is he being persecuted for?" Putin asked. "For sex crimes? Nobody believes that. You don't believe that."
He then tied everything together with a neat bow. "Why have I recalled all this? Unfortunately, our American partners use these methods to achieve their selfish goals and persecute people illegally. I don't rule out that this may be the same case with FIFA."
Russia is scheduled to host the 2018 World Cup. The United States launched an unsuccessful bid to host the World Cup in 2022; Qatar won the bid, and the indictment questions whether bribes were instrumental to these picks. In Qatar, about a thousand migrant workers have died while building new stadiums. The World Cup was moved from summer to winter to avoid the sweltering hot temperatures. With Russia, there were worries about how the country would be able to build massive stadiums in time for the tournament when Russia just spent so much on the Olympics. 
"We know about the pressure," Putin said, "that he has been put under to cancel the 2018 World Cup in Russia."
The U.S. government isn't alone in condemning FIFA. Several World Cup sponsors — including Coca-Cola, McDonald's, and Visa — have spoken out. "Our disappointment and concern with FIFA in light of today's developments is profound," Visa said in a statement yesterday.
FIFA is still scheduled to start its annual Congress — which is why all the officials arrested happened to be in Switzerland. The organization's president, Sepp Blatter, was not listed on the indictment, and has declined to postpone Friday's election. Some European officials were wondering whether to boycott the Friday election, and have said they would support Blatter's only opponent. British Prime Minister David Cameron said Blatter shouldn't win a fifth term — and should step down. 
The FIFA president has mostly avoided the press since the charges were announced, although he did address the controversy in his opening speech on Thursday. He didn't say anything new. "The next few months will not be easy for Fifa," Blatter said. "I'm sure more bad news may follow. But it is necessary to begin to restore trust in our organization. Let this be the turning point." 
A FIFA spokesperson told reporters earlier, "He is not a happy man, he is not saying, 'Everything's cool.'"
On top of that, it's not clear how much wider the Justice Department's net might reach. At a press conference in New York yesterday, one attorney said, "It's only just beginning."