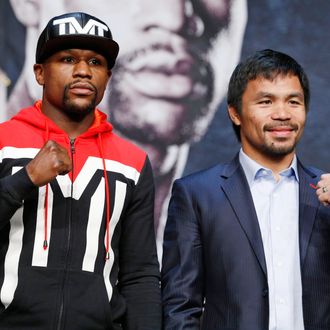 Floyd Mayweather Jr. and Manny Pacquiao.
Photo: John Locher/Corbis
Tomorrow night's fight at MGM Grand Garden Arena between Floyd Mayweather Jr. and Manny Pacquiao is on track to be the most wagered bout in Las Vegas history. Mayweather is a 2–1 favorite, but even though MGM has only been taking bets since the fight was made official in February, many people long ago decided on whom they'd be putting their money. "There's really strong opinions that have been formed for years," says Jay Rood, who oversees the sports books for all of MGM's properties. "I mean, if you thought Manny Pacquiao was gonna beat him two or three years ago, I'm pretty sure you still think Manny Pacquiao is going to beat him right now. And there's other people that say Mayweather's just too good of a defensive fighter and too good of a counter puncher to allow Manny Pacquiao to get to him." Daily Intelligencer spoke with Rood on Thursday afternoon, a little more than 48 hours before the fight, about his worst-case scenario, and why so many people are betting on Pacquiao to knock out Mayweather in the eighth round.
At this point, can you tell if this is going to end up being the biggest fight you've ever worked with?
Yeah. It's definitely going to be the biggest fight that we've ever booked at the MGM. And I think it's gonna the biggest fight that the state has ever booked from a handle [amount wagered] perspective. It's been real strong the last ten days, and particularly yesterday and early this morning. It's probably already ranked the No. 2 biggest fight as far as handle goes that we've had in the last 10, 15 years.
What was the No. 1?
No. 1 was Mayweather-Canelo [Saul Alvarez].
And this will pass that?
It will definitely be No. 1. It's not far behind right now already, and we have 48 hours to go. Realistically, if this holds true to all of our other fights, we pull in about 70 to 80 percent of our entire handle in the last 48 hours, so there's a considerable amount of money to come.
Do you have an estimate of how much will be wagered by the time the fight's over?
[Statewide], we're gonna have probably in the neighborhood of between $60 million and $80 million wagered for this fight.
What are the sort of trends have you seen so far?
Right now, the public opinion is definitely for Manny Pacquiao. We're writing a little over three tickets to every one of Mayweather's, so more people are betting for Manny Pacquiao, although there has been more money wagered on Mayweather. Not a lot more, but a little bit more. We still need Mayweather to win from a house perspective, but the public is definitely betting Pacquiao.
Have you seen any particularly large wagers so far?
Most of the wagering in a regular fight is not done until the week of the fight. But this particular fight, we've been getting wagers from the moment we put it out, and it's been significant wagers as well. A month ago, I took our biggest bet to date, and that was nearly half a million dollars on Manny Pacquiao. People have been betting this when they've been in town because maybe they weren't gonna be able to be here closer to fight time and they wanted to have a piece of the action before they went home. We've had probably somewhere in the neighborhood of 20 six-figure bets already.
Have you noticed anything else about the way people are betting?
Yeah, there's a couple things. One thing that stands out right now is many people are betting the draw. They think this is gonna end in a draw because they're gonna want to have another fight, another pay day and all that. It very well could be depending on how the fight goes, but I don't think a rematch necessarily depends on a draw. I think a rematch depends on if this is a close fight and maybe a split decision. So the draw is getting significant handle. It's probably our biggest liability on the board from a loser perspective, from the house right now. Manny Pacquiao to knock out Mayweather in round No. 8 is getting quite a bit of attention as well. We opened it at 40 to 1, and we're down to 15 to 1 on that right now. I think a lot of that has to do with the No. 8 being very lucky in the Asian community.
So is a Mayweather win the best-case scenario for you?
We'll probably need Mayweather to win by decision.
What does it mean for you if Pacquiao wins by decision?
It sort of depends on how. If Pacquiao wins by decision, it's probably a decent day for us. Maybe a small winner. If Pacquiao wins by knockout, probably a little bit of a loser. But when I say loser, I mean from the sports-book perspective. But if Pacquiao wins, I think that almost guarantees a rematch, so realistically the company would be in a good position to have the rematch and host the fight again, so financially that's advantageous for us.
And the worst-case scenario for the sports book is a draw?
Yeah, especially a lackluster draw. If it's an exciting fight, and they're going after each other back and forth, and they score a draw based on that, that's great because then you'd definitely look forward to another rematch. But if it's a hard fight to score because neither fighter is getting much done — maybe Manny is busy but he's not landing much; maybe Mayweather is just sort of in the weeds waiting to counterpunch — and neither fighter is really exercising a strong position, then it would be hard to score. I think that would be a difficult rematch right off the bat.