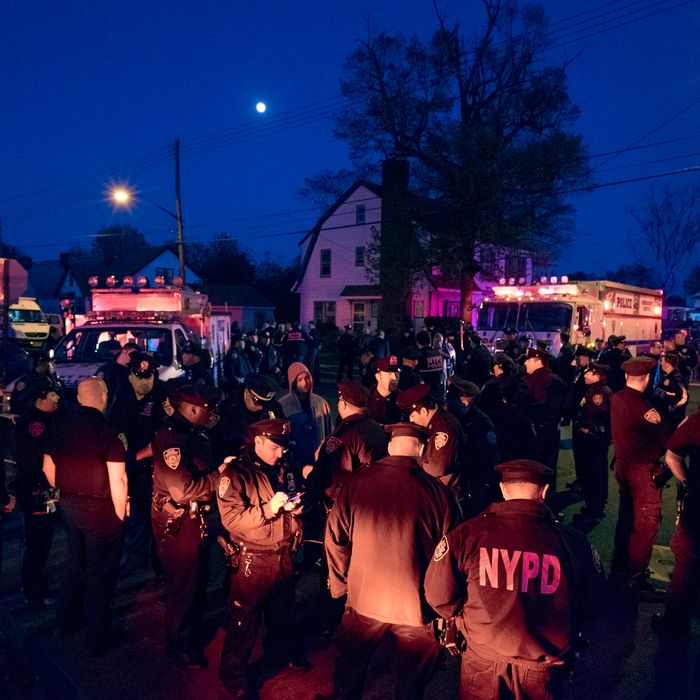 The scene of the shooting on Saturday night.
Thirty-five-year-old Demetrius Blackwell has been arrested and charged with attempted murder and criminal possession of a weapon for shooting an NYPD officer in Queens Village on Saturday evening. According to police chief Bill Bratton, the attack occurred after the wounded cop, 25-year-old Brian Moore, and his partner, 30-year-old Erik Jansen, approached Blackwell in their unmarked car, having noticed that he was "walking and adjusting an object in his waistband." (The officers were in plainclothes.) Bratton said that Moore and Jansen were speaking with Blackwell when he suddenly turned, pulled out a gun, and fired twice into the NYPD vehicle.
A police source told the New York Times that a bullet hit Moore "in the left cheek and the bullet went out the right side of his head, toward the back of the head." Jansen was unharmed. Blackwell then fled the scene, and Moore was rushed to Jamaica Hospital Medical Center. After a 90-minute search that included helicopters, the police found Blackwell in a nearby home. (Bratton said that Blackwell "resides on that block" of 104th Avenue, but the house he was in was not his.) The NYPD is still searching for the gun.
Meanwhile, the New York Daily News reports that Moore is in a medically induced coma:
The full extent of Moore's injuries would not be known until at least a day after the attack, the NYPD's chief surgeon said.

One of the scores of cops leaving the emergency room where Moore was being treated shook his head and only said "not good" when asked about the officer's condition.
Bratton said that Blackwell's past includes arrests for weapons possession and robbery, and that he has spent time in prison. The Times reports that Moore and Jansen "had been seeking Mr. Blackwell … to speak with him in connection with a crime, though whether he was a suspect or a witness was not immediately clear."