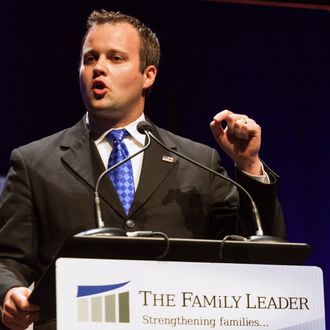 Josh Duggar, Family Values Leader.
Photo: Brian Frank/Reuters/Corbis
Josh Duggar, the eldest kid of the 19 Kids and Counting reality show and a director at the right-wing Family Research Council, admitted to People last night that when we he was a teenager he molested several underage girls. Duggar, who is now 27 and married with three children of his own, gave the following statement after a sealed police report containing his confession was leaked to the In Touch tabloid:
Twelve years ago, as a young teenager, I acted inexcusably for which I am extremely sorry and deeply regret. I hurt others, including my family and close friends. I confessed this to my parents who took several steps to help me address the situation. We spoke with the authorities where I confessed my wrongdoing, and my parents arranged for me and those affected by my actions to receive counseling. I understood that if I continued down this wrong road that I would end up ruining my life.
His inexcusable acts included fondling the breasts and genitals of five girls when he was 14 to 15 years old, possibly including his sisters. The several steps Duggar's fertile and famous Evangelical parents took to help him included disciplining him (he molested another girl nine months later), sending him away for a summer mentorship, and setting him up for some "very stern" advice from a family friend, Arkansas state trooper Jim Hutchens — who himself was later arrested on child pornography charges. The Duggars didn't discuss the incidents with police until a family friend called a child abuse hotline in 2006 to flag the molestations. By the time police were able to investigate, the statute of limitations had run out. The Duggars have also been associated with an ultraconservative home-schooling guru named Bill Gothard, who had to step down from his organization after he was accused by dozens of women of molestation, sexual harassment, and failing to report child abuse.
Josh Duggar was, until he resigned yesterday, the executive director of FRC Action, the nonprofit lobbying arm of the Family Research Council. FRC is run by longtime same-sex-marriage opponent Tony Perkins and hosts the annual Value Voters Summit, a regular sugar pile for prospective Republican presidential nominees. The organization "champions marriage and family as the foundation of civilization, the seedbed of virtue, and the wellspring of society. Properly understood, 'families' are formed only by ties of blood, marriage, or adoption, and 'marriage' is a union of one man and one woman." Duggar was himself an outspoken advocate for traditional marriage, and a minor conservative celebrity.
He frequently campaigned with conservative candidates, including several people currently running for the Republican presidential nomination. On Friday, Mike Huckabee defended Duggar on Facebook, writing, "Let others run from them. We will run to them with our support."
"Josh's actions when he was an underage teen are as he described them himself, 'inexcusable,' but that doesn't mean 'unforgivable,'" Huckabee added. " … Good people make mistakes and do regrettable and even disgusting things."
For more, Think Progress's Judd Legum collects a bunch of Duggar's comments regarding family values and the like.
On Friday, TLC pulled 19 Kids and Counting from its schedule, according to The Hollywood Reporter. The show has not been officially canceled yet. TLC ran a marathon of the reality-TV show on Thursday night, and it was next scheduled to air on May 27.