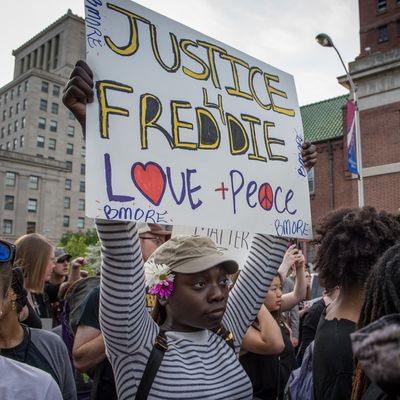 Protestors march in solidarity for Freddie Gray in downtown Baltimore, MD. April 29, 2015.
Photo: Copyright Ken Cedeno 2015
The Baltimore Police Department gave the State Attorney's office the results of their investigation into the death of Freddie Gray on Thursday, but they refused to release any information on their findings (aside from the existence of a previously undisclosed fourth police van stop, which only raised more questions). However, those familiar with the report said it concluded that Gray died from a spinal injury sustained after he was handcuffed and loaded into the van. Police sources tell Baltimore's WJLA that the medical examiner concluded Gray broke his neck when his head slammed into a wall inside the van, and they found a head injury that matches a bolt inside the vehicle.
An anonymous official told the Washington Post that Gray had other head injuries as well. They said the injuries were consistent with those seen in car collisions, but investigators have not determined how Gray was injured or whether his wounds were self-inflicted.
A controversial police document leaked to the Post on Wednesday said an unnamed second passenger in the van told police he heard Gray "banging against the walls" and believed he "was intentionally trying to injure himself." The other prisoner, 22-year-old Donta Allen, came forward on Thursday and confirmed that he heard banging when he got in the van. "When I got in the van, I didn't hear nothing. It was a smooth ride. We went straight to the police station. All I heard was a little banging for about four seconds. I just heard little banging, just little banging," Allen told WBAL. "I told homicide that. I don't work for the police. I did not tell the police nothing."
But in an interview with WJZ, Allen said police are misconstruing his words, and he's angry that the report was leaked. "They trying to make it seem like I told them that, I made it like Freddie Gray did that to hisself [sic]," he said. "Why the [expletive] would he do that to hisself?" Allen added that he's now afraid for his life. "I had two options today right, either come and talk to y'all and get my credibility straight with ya'll and not get killed by these [expletive] or not tell a true story," Allen said. "The only reason I'm doing this is because they put my name in a bad state."
Allen said he was taken into custody because he allegedly stole a cigarette from a store, but he was never charged. (Previously the Post reported that the other prisoner was a "a 38-year-old man accused of violating a protective order.") Allen could not see Gray because they were separated by a metal wall, and multiple experts told the Daily Beast that it's impossible to intentionally sever your own spinal cord in that situation.
Police have admitted that Gray was not belted in, though recently updated department rules require the use of seat belts on prisoners. Allen suggests the final leg of the drive was not a "rough ride," but there were three stops before he was put in the van. Allen claims that when they got to the station, he heard police say, "We got him, we gave him a run for his money."
Another possibility: Gray was injured during the arrest, but the symptoms didn't become apparent until he was in the van. "It's possible to have an injury to your spinal cord that gets worse over time and eventually progresses to complete paralysis," Anand Veeravagu, a Stanford University Medical Center neurosurgeon who specializes in traumatic brain and spinal cord injuries, told the Daily Beast.
Three weeks after Gray's death, we still don't know much about how he was injured, and officials say they still need more time. When asked to address claims about the police report, a spokesman for the state office of the chief medical examiner said, "We don't do preliminary findings, and the investigation isn't concluded."