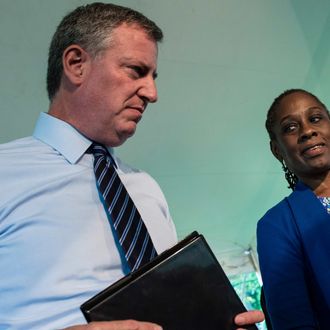 Photo: Timothy Fadek/Corbis
New Yorkers have found many reasons to be skeptical of Bill de Blasio, now in his second year as mayor. He doesn't eat pizza like a New Yorker. He doesn't watch sports like a New Yorker. He killed a groundhog. 
Today, The Wall Street Journal found another completely valid reason to question de Blasio's ability to serve the city: He doesn't care enough about rich people — especially philanthropists.
The de Blasios haven't been attending many of the "city's high-profile society events" unlike their predecessors, Michael Bloomberg and Diana Taylor, who were a "fixture on the black-tie circuit."
And people have noticed. Event publicist Peggy Siegal told the Journal, "They obviously do not relate to New Yorkers who socially network to support charities. They have made themselves socially irrelevant. It is a major shortcoming not to mingle with all classes." She added that de Blasio seemed to have a "disdain for the striving, successful New Yorkers and I have been told by insiders that he always listens to his wife, who also has disdain for the accomplished."
Two years ago in an article the Journal ran about philanthropists worrying about whether Bloomberg's successor would become their worst nightmare, Siegal said of Bloomberg, "Everyone loves him. Among the powerful, he is the No. 1 party guest." James Gregory, author of the book New York Parties: Private Views, told the newspaper he had "a lot of concerns. … Some of the candidates say, 'These are things that rich people do,' as though it's not having a positive impact. I am perplexed."
This is not the first time wealthy New Yorkers have found evidence that their populist mayor hates them. After the Polar Vortex in January 2014, Upper East Side residents noticed that their neighborhood wasn't being plowed very often. Martin Cisse told the New York Post, "De Blasio is trying to hurt the more wealthy people by ignoring us but there's no logic to that." Glenn Beck noted in March that this was just like what happened in Soviet Russia. "All the old Soviet leaders," he said, "thought back then that taking it from the rich would solve everybody's problems. And so they were always after the rich. Now de Blasio is doing the same thing."
As New York Times reporter Nick Confessore pointed out on Twitter, the de Blasios might not think of this as a problem.