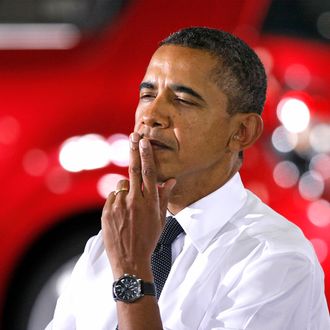 Photo: Bill Pugliano/Getty Images
President Obama was hoping that Congress would help expedite the Trans-Pacific Partnership's path through Congress when it is finally completed, and his own party showed that they aren't too interested in giving him that power. 
The Senate voted down even beginning debate on legislation that would give the president fast-track authority on trade deals for the next six years today, 52–45. Sixty votes were necessary to move the bill forward. Many Democrats demanded that the fast-track authority only be granted if the free trade included a few requests — namely promises for additional worker protections and trade enforcement. Senate Majority Leader Mitch McConnell instead moved right to the procedural vote, and the bill is now stalled.
Senator Elizabeth Warren has been especially critical of the trade deal, citing the secrecy of the process and fears about what could happen to banking regulation if the next president is also given fast-track authority — as well as worries about how past free trade deals have affected the U.S. economy. She told NPR, "The way I see this, that's a tilted process, and a tilted process yields a tilted result." President Obama, when asked about her objections, said she was "absolutely wrong."
Senate Finance Committee ranking member Senator Ron Wyden and Senate Minority Leader Harry Reid have also loudly opposed fast-track authority.
Senator Tom Carper was the only Democrat to vote to move debate on the bill forward.
Partisan allegiances have swapped widely on this issue; as Democrats have expressed major worries about what a trade deal might lead to, Republicans have been mostly favorable to TPP. 
After the failed procedural vote today, McConnell said, "What we just saw here is pretty shocking."
Earlier, he said words that no one imagined McConnell might utter. "This is not a game. This is about trying to accomplish something important for the country that happens to be the president's No. 1 domestic priority."
Without fast-track authority, Obama might have to make some of his party's demands part of the trade negotiations — which could ultimately doom the chances of all the countries involved agreeing to take part. Many of the partners in Asia working on the bill said they were reticent to agree on anything final without the reassurances of a fast-track authority thumbs-up from Congress.