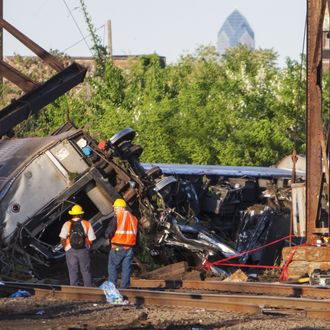 Photo: Anadolu Agency/Getty Images
The ongoing investigation into the cause of this week's deadly Amtrak crash has turned up a possible new clue: Several people have suggested that an object hit Northeast Regional Train 188 just before it derailed outside of Philadelphia at 9:30 p.m. on Tuesday.
According to National Transportation Safety Board member Robert Sumwalt, one of Train 188's three conductors told investigators that she overheard a radio conversation in which Amtrak engineer Brandon Bastion said "something about his train being struck by something" to the engineer of a nearby SEPTA train. From ABC News:
"Right after she recalled hearing this conversation between her engineer and the SEPTA engineer, she felt rumbling and her car went over on its side," Sumwalt said.

The unnamed 39-year-old conductor said that she heard the other engineer, who was at the controls of one of the city's SEPTA mass transit trains, who radioed in saying that he believed "he had been either hit by a rock or shot at," prompting Bastion to respond and say that he believed something similar had happened to his train.
A SEPTA spokesperson confirmed to The Wall Street Journal that "one of the agency's Trenton line commuter trains was hit by an unidentified projectile around 9:10 p.m. Tuesday night in the vicinity of the North Philadelphia station" and that "vandalism of moving trains in the area is a common occurrence."
Meanwhile, NBC News reports that at least two passengers traveling another Amtrak route on Tuesday night saw "a projectile" strike their train's window:
[Justin] Landis was traveling on southbound Amtrak Acela 2173 and nearing the Philadelphia 30th Street Station around 9:20 p.m. when he was jolted by the sound of an object hitting and shattering the window of his train car. The passenger sitting next to Landis told him he had seen a rock.

"After I heard about the derailment, I was pretty concerned about what happened," Landis told NBC News. Hoping to find out if the events were connected, he tweeted photos of the damage he saw on board Acela 2173.

Another passenger, Madison Calvert, was sitting by the window that shattered and told NBC News the noise of the object hitting the train was startling. "I thought it was a rock or a battery," he said. "It sounded like a rock hitting a windshield." Calvert, a vice president of sales for a software company, said he has ridden Amtrak for the past 10 years at least twice a month. "I've never had a window broken," he said.
Investigators have already determined that Train 188 accelerated from 70 mph to 106 mph as it approached the curve that sent it off the rails. (The speed limit in that area is 50 mph.) Bastion, who Sumwalt described as "extremely cooperative," has said he doesn't remember the minutes immediately prior to the accident, which would include the exchange recalled by his co-worker.