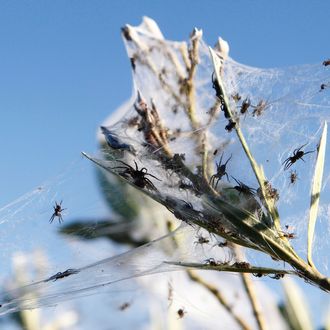 Photo: Daniel Munoz/Reuters/Corbis
"Ballooning is a not-uncommon behavior of many spiders. They climb some high area and stick their butts up in the air and release silk. Then they just take off," a retired arachnologist at the University of California, Riverside told LiveScience when it asked why millions of spiders were falling from the sky in Australia. "This is going on all around us all the time. We just don't notice it."
Unfortunately, it is impossible to remain oblivious to "spider ballooning" or scary spider rain or spider snow thanks to the fog of spiderwebs now coating the Southern Tablelands of Australia.
The strange phenomenon is also known as "angel hair," since a downpour of millions of baby spiders riding silky strands of web looks very much like the sky is cloudy with a 90 percent chance of spaghetti, hold the meatballs. Farmer Ian Watson in New South Wales told Mashable that "Because they were little baby spiders, it wasn't as freaky — if they were huntsman spiders coming down, I think I would have set fire to the place and taken off."
Watson quickly posted news of the spider rain to his community Facebook page. "Someone call a scientist!" he begged, according to the Sydney Morning Herald. 
Apparently spider rain is a weather event that happens several times a year in Australia — and elsewhere. In 2007, a few oak trees in a state park in Texas were engulfed by spiderwebs; scientists wondered if ballooning was to blame for the "awe and revulsion" inspiring sight. Dr. H.C. McCook told Captain George H. Dodge's spider-rain story in Harper's Magazine in 1904. He was sailing on the eastern coast on South America in March 1882, 200 miles from land, and "his ship was covered with innumerable spider webs."
"'The spiders seemed like elongated balls,' said the Captain, 'with a sort of umbrella canopy above them … it is not unusual for birds to be blown out to sea. How much easier for a spider, provided he has the means to keep himself suspended in the air!'"
However, the spiders don't usually all land at once, blanketing the landscape in what looks a lot like a mixture of marshmallow Fluff and pillow stuffing, which frightened locals a bit.
Retiree Keith Basterfield has been keeping meticulous records of the annual spider-rain patterns, and wants anyone who might have gotten some falling web in their beard or piled up in their yard to give him a call, according to the Goulburn Post.
Correction: An earlier version of this story had farmer Ian Watson's name listed as Ian Walker.