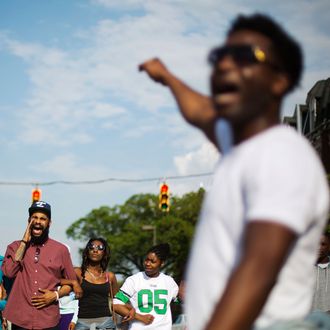 Photo: David Goldman/AP/Corbis
Baltimore State's Attorney Marilyn Mosby announced today that Freddie Gray's death was ruled a homicide after an autopsy was completed, and that her office plans to file criminal charges against the six officers who arrested him without probable cause. Gray was arrested for carrying a switchblade; he was carrying a legal knife. The charges include negligent manslaughter, assault, false imprisonment, and misconduct in office. The officer driving the van has been charged with second-degree "depraved-heart murder," a legal term that means "killing someone in a way that demonstrates a callous disregard for the value of human life."
A warrant has been issued for their arrest.
"I assured his family that no one is above the law and that I would pursue justice on their behalf," Mosby said during a press conference, her first public remarks on the case. 
Mosby said that medical investigators found that Gray's fatal head injury had been caused by not being secured in the police van while handcuffed. The wound on the back of his neck showed that he had hit a bolt in the back of the van. By the time the police van reached the station, Gray was in cardiac arrest. He had told officers previously that he could not breathe and needed an inhaler, and had not been given medical assistance. Gray died a week later. 
She also asked for calm in Baltimore in response to the news. "I heard your call for 'no justice, no peace,'" she said. "Your peace is sincerely needed
as I work to deliver justice on behalf of this young man."
President Obama briefly responded to the news, saying it was "absolutely vital that the truth comes out."
"What I think the people of Baltimore want more than anything is the truth." 
After the announcement, cheering and hollering could be heard at the intersection where most of the rioting took place earlier this week, as drivers passing by honked their horns. About 100 police officers in riot gear were there observing the cheering.
Kevin Moore, who filmed Gray's arrest, told the Baltimore Sun, "I'm exuberant. I'm happy. I'm every positive word you can think of. I finally made a difference in the world." It "feels so good," he added "that black people finally matter."
Later in the afternoon, hundreds of people marched toward city hall in a mostly celebratory mood, chanting Freddie Gray's name and "no justice, no peace." Maryland Governor Larry Hogan ordered more than a thousand National Guardsmen downtown, where there was already a heavy police presence. 
Mosby has been Baltimore's chief prosecutor for only four months. During her campaign last year, she told the Baltimore Sun, "Police brutality is completely inexcusable. I'm going to apply justice fairly, even to those who wear a badge.'
She grew up knowing many police officers. "My grandfather was one of the founding members of the black police organization in Massachusetts," she told Baltimore magazine earlier this year. "And my grandfather, my uncles, my mother, my father — I have five generations of police officers. I know that the majority of police officers are really hard-working officers who are risking their lives day in and day out, but those really bad ones who go rogue do a disservice to the officers who are risking their lives and taking time away from their families."
A police union in Baltimore wrote an open letter arguing that Mosby should appoint a special prosecutor in this case because of a conflict of interest. Her husband is on the City Council, and the Grays' family lawyer donated $5,000 to her campaign and provided help during her transition. Fraternal Order of Police Lodge 3 president Gene Ryan also wrote that, "As tragic as this situation is, none of the officers involved are responsible for the death of Mr. Gray."
Mosby said that she would not step away from the case, and that no conflict of interest existed. "The people of Baltimore elected me and there's no accountability with a special prosecutor."