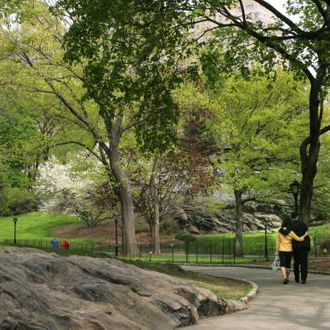 Photo: Chris Hondros/Getty Images
Two teens in Ontario decided to do what teens do as soon as the weather gets nice and took drugs in a park. Unfortunately for them, the undisclosed substance they imbibed caused them to lose all sense of direction, resulting in a highly embarrassing 911 rescue.
The two unnamed teens called 911 around 6 p.m. in Barrie, Ontario, Tuesday when they realized they were lost … in a small neighborhood park … in broad daylight. If you're picturing them wandering some thickly wooded forest, think again: The park is adjacent to a busy road and frequently trafficked by students from the high school nearby. As one cop told the National Post, it's "near impossible to get lost in."
That didn't stop the teens, who had the following conversation with 911:
When a police dispatcher asked one of the young men if there were any landmarks around, he responded that he saw trees. So the dispatcher tried asking him to shout "Help" to alert the searchers, according to Acting Sgt. Adam Morris. Instead, the man said "Yeah," in a quiet voice.
The teens were rescued shortly after placing the call, and when officers arrived, they were "silently staring off into the sky."
Teens forever.