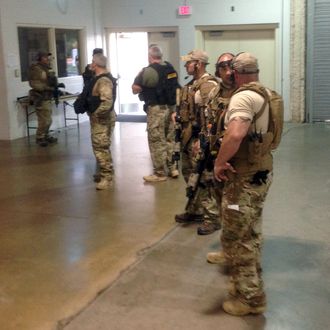 Members of the Garland Police Department stand inside the Curtis Culwell Center in Garland, Texas.
Photo: Nomaan Merchant
Police have identified one of the suspects in the shooting outside a Prophet Muhammad cartoon exhibit in Garland, Texas, as Elton Simpson, an Arizona man who has previously been investigated for terrorism.
In 2010, federal agents investigated Simpson, a resident of Phoenix, for attempting to join a terrorism organization in Africa. He was convicted of lying to federal agents about his travel plans, but "a judge ruled the government did not adequately prove he was going to join a terror group," according to ABC News.
Police believe Simpson was the person manning the Twitter account that discussed the attack both before and after it occurred, sending out messages such as, "Allahu Akbar!!!!! 2 of our brothers just opened fire at the … art exhibition in texas!" 
Both suspects who opened fire at the exhibit were killed by police late Sunday night.