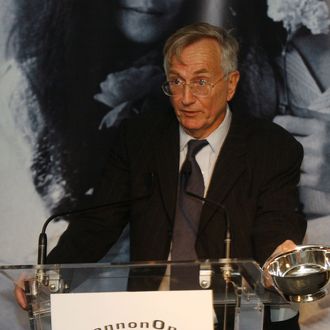 Photo: Brad Barket/Getty Images
Yesterday, the London Review of Books published one of the most mind-bending pieces of national-security journalism in recent memory: Seymour Hersh's alternative history of the Osama bin Laden assassination. Over more than 10,000 words, the legendary investigative reporter and longtime New Yorker contributor un-spooled a remarkable narrative that accuses the Obama White House of concocting a "blatant lie" to hide Pakistan's involvement in the SEAL Team Six raid on bin Laden's compound in Abbottabad. "The White House's story might have been written by Lewis Carroll," Hersh writes. If Hersh's allegations prove to be even somewhat true, the enormity of the cover-up, not to mention the mainstream media's complicity in promoting it, would be an enormous scandal.
Not surprisingly, the pushback has been ferocious. CNN's Peter Bergen wrote that Hersh's piece "reads like Frank Underwood from House of Cards has made an unholy alliance with Carrie Mathison from Homeland to produce a Pakistani version of Watergate." On CBS This Morning, former CIA deputy director Michael Morell called it "all wrong." On Twitter, Max Boot declared: "Sy Hersh is a far-left fantasist and conspiracy theorist who once every few decades breaks real news." (Late Monday, NBC News published a story that backed up some of Hersh's reporting.)

One of the most interesting sub-dramas of Hersh's exposé has to do with the article's appearance in the LRB. Why, many people are wondering, did Hersh's account not appear in The New Yorker, where Hersh has been a contributor since 1971? In fact, the article's stunning claims put Hersh on the wrong side of his longtime journalistic home. In August 2011, The New Yorker published a highly detailed recounting of the raid by staff writer Nicholas Schmidle that hewed closely to the Obama White House's line. Was New Yorker editor David Remnick's decision not to publish Hersh's piece a sign that Hersh's account couldn't be trusted? Or was it a sign, as some people are saying, that Hersh's relationship with The New Yorker has soured over Hersh's sustained critique of the Obama national-security apparatus and Remnick's reluctance to challenge it?
When I spoke to Hersh earlier today, it was clear that there is tension. Hersh told me that he published the piece in the LRB because Remnick was not interested in having him write a magazine piece on the bin Laden raid. Hersh explained that, days after the May 2, 2011 SEAL operation, he told Remnick that his intelligence sources were saying Obama's account was fiction. "I knew right away that there were problems with the story," Hersh told me. "I just happen to have sources. I'm sorry, but I do." Hersh told Remnick he wanted to write a piece for the magazine.
"David said, 'Do a blog,'" Hersh recalled. "I said, 'I don't want to do a blog.' It's about money. I get paid a lot more writing a piece for The New Yorker [magazine] … I'm old and cranky." (Remnick declined to comment).
Hersh, who is writing a book about the war on terror, decided to sell the bin Laden story to the LRB. "I like the politics of it better," he said. He said the piece was rigorously fact-checked. "The London Review checks like the New Yorker," he told me. (Though as New York book critic and former LRB editor Christian Lorentzen once wrote, the process can be different across the pond: "At the LRB we do check facts, which are for the most part conveniently located in the books we review … But nobody at the paper fact-checks full time; that's an American thing.")
I asked Hersh what he thought about Schmidle's account of the bin Laden mission. It was the one time in our conversation that he did not readily answer.
"Excuse me, I don't want to be a wise guy. Whatever I think of it … What am I supposed to say?"
Hersh was quick to point out that his professional relationship with The New Yorker hasn't changed during the Obama years. He's never been a staff writer. "I've never been on a contract," Hersh said. "No one can say I want you to do something. I'm too old and cranky and do what I want." And, he added, he published a feature in the magazine two months ago about his return to My Lai, the scene of the story that made him famous.
Given that he knew he was challenging not only his longtime journalistic home, but also the established narrative of the biggest military mission in a generation, Hersh is not surprised by the criticism flying his way. And it's not the first time he's risked his reputation by making shocking claims.
Hersh remains confident in his reporting. "I can tell you this: A late draft was read by a lot of people on the inside," he said, seeming to imply that multiple intelligence sources had signed off on his account. Still, in the end, he said, "It's on me."