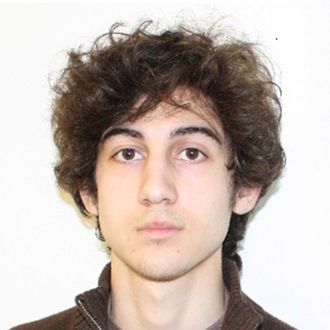 UNKNOWN - APRIL 19: In this image released by the Federal Bureau of Investigation (FBI) on April 19, 2013, Dzhokar Tsarnaev, 19-years-old, a suspect in the Boston Marathon bombing is seen. (Photo provided by FBI via Getty Images)
Photo: Handout/FBI
Dzhokhar Tsarnaev's defense team rested today with brief but powerful testimony from Sister Helen Prejean, the Louisiana nun and noted anti-death-penalty advocate famously portrayed by Susan Sarandon in the 1995 film Dead Man Walking. The move, which the prosecution furiously attempted to block, was seen as a play to Boston's largely Catholic (and presumably death-penalty-averse) population and to try to establish that Tsarnaev felt remorse — something that the defense had not yet accomplished.
Sister Helen was largely blocked by the court from speaking about her views on capital punishment. Instead, she recounted five meetings that she had with Tsarnaev in the past two months, during which the convicted bomber expressed regret and sadness about his actions. Her appearance was brief and quiet but resonated strongly in the courtroom. While the defense's case included a parade of witnesses remembering Tsarnaev as a sweet and sensitive teen, until Prejean testified, there had been no window into his feelings about his crimes.
"I'm not sure he'd ever met a nun before but he was very open and receptive. It was pleasant, it was good," she recalled of their first visit. "I walked in the room and I looked at his face and I remembered, Oh my God, he's so young — which he is. And it just had that kind of spontaneity to it that you have with young people, because young people are open and more responsive. I sensed he was respectful. I felt it was pretty easy to establish a rapport."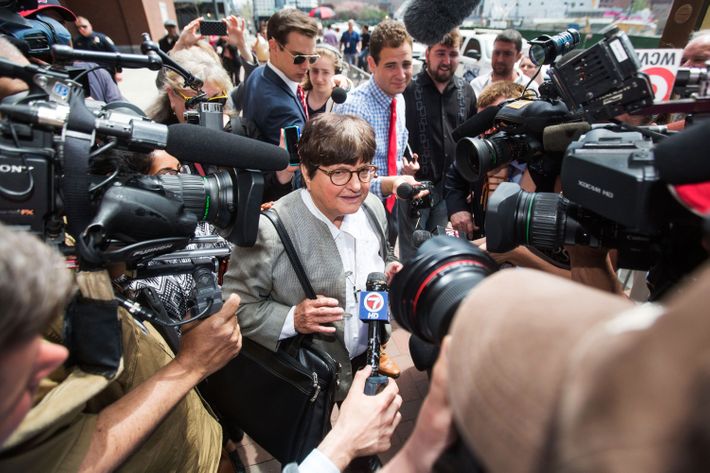 Sister Helen explained that she had studied the Koran prior to her trip to see him, in order to broach a faith-based connection. The two spoke about her work and she talked with him about the Catholic Church's strong opposition stance on the death penalty. "We had definite disagreements … [but he was] always respectful," she said. After working to gain his trust, she asked him about his role in the bombing and the victims of the attack. "He said it emphatically, he said no one deserves to suffer like they did," she said, describing him as "absolutely sincere."
Despite being severely limited in her line of questioning, Conrad was intent on getting Prejean's words to strike against the notion that Tsarnaev felt no remorse. "It had pain in it," she said of his voice. "Actually, when he said what he did about 'nobody deserves that,' I just had every reason to think that he was taking it in and that he was generally sorry for what he did."
Taken without the broader context of everything that's been said in the Boston courtroom over the course of weeks, Prejean's testimony might seem to be of modest value. Certainly, for many observers, referring to the people he killed in the bombing as "underserving" victims falls very short of any type of significant regret. And yet, the image of a young man discussing his feelings with one of America's most visible emissaries of the Catholic Church may be the defense's best hope when it comes to staving off the death penalty. When the jury begins deliberating later this week, it might take only one juror feeling moved by Prejean's words — or the teachings of Catholicism — for Tsarnaev to find himself spared.