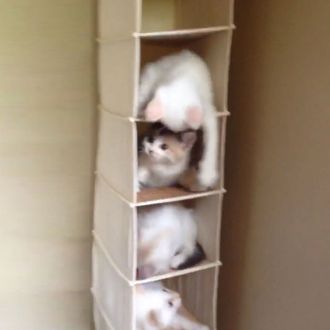 It's the first of the month, so I hope you remembered to say "rabbit, rabbit" this morning. New York is slated for a warm and sunny weekend, and we're just an hour or so away from the end of the day, so let's ignore all the terrible things happening in the news and enjoy eight actually good things that happened this week. 
1. More than 450 women and girls were rescued from Boko Haram. The women were rescued in the Sambisa Forest by the Nigerian military, who destroyed three of the camps where the victims were being held.
2. We discovered the dadbod. The dadbod was this week's controversial new trend, breaking out of the confines of teen lingo and into the mainstream. It caught some flak for being a symbol of privilege, but it also allowed us to see a lot of pictures of Jason Segel, who is pretty cute in a dadbod way.
3. Two dogs met a wild deer in a Michigan field and they all became fast friends. Interspecies friendships are magical.
4. Rubella has been eliminated from the Americas. After a 15-year fight, cases of Rubella — otherwise known as the "German measles," a virus that typically affects babies and children — in the Americas have dropped to zero. Doctors are hoping the European region will follow suit.
5. We realized subway etiquette isn't dead. We know it's hard to believe when the people on your commute seem so terrible, but not all subway etiquette has totally disappeared. 
6. Five kittens discovered their new condos. Okay, the condos are just a shoe rack, but they're super psyched about them. Besides, it's not that much smaller than a Manhattan apartment.
7. A man dressed as a clown performed for young survivors of the Nepal earthquake. The Ohio-based party performer blew up balloon animals and performed for children following the natural disaster with hopes of cheering them up. "I had extra balloons so I just said, 'let's go put some smiles on their faces,'" he told the Huffington Post. "'Let's go give them an escape, even if it's just for that moment.'"
8. A dog had the hiccups for the very first time. And he thought the appropriate reaction would be to bark at them.